200 Hour Teacher Training
Our 200 hour yoga teacher training is designed to take your personal practice and understanding of yoga to a whole new level and provide you with the skillset to offer students an intelligent, dynamic and inspiring yoga class. Our courses are ideal for serious students and aspiring teachers. This teacher training program is designed to provide an in-depth exploration into the practice, process and science of yoga.
Topics covered include:
Detailed, alignment-based posture clinics of more than 50 postures
Multiple methods of sequencing a Vinyasa class
Meditation
Philosophy of yoga
Physical and energetic anatomy
Heat management
Daily physical practice in a heated room
Hot Asana Yoga University offers a wide range of formats and locations to make 200 hour training available to everyone.
Weekend Format
8 weekends
Hours of each weekend: Friday 5-9pm, Saturday 8am-8pm & Sunday 8am-6pm
Locations: Hot Asana Yoga Studios
Intensive Format
2 ten-day sessions
Hours of each session: First Friday 4-9pm , Saturday - Saturday 8am-8pm & Final Sunday of 8am-1pm
Locations: Hot Asana Yoga Studios
Immersion Format
21 consecutive days
Locations: Domestic & International destinations
Click on the individual training posters to see the upcoming trainings.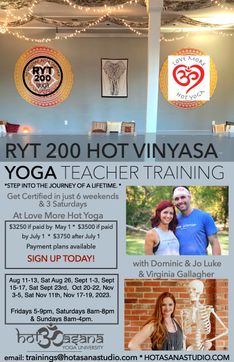 7 Weekend Sessions: Six weekend sessions and 3 Saturdays make up this training: Aug 11-13, Sat Aug 26, Sept 1-3, Sept 15-17, Sat Sept 23rd, Oct 20-22, Nov 3-5, Sat Nov 11th, Nov 17-19, 2023.
With: Virginia Gallagher, Dominic Luke & Jo Ellen Luke
Hours: Fridays 5-9pm, Saturdays 8am-8pm & Sundays 8am-4pm. 

At: Love More Hot Yoga in Covington, LA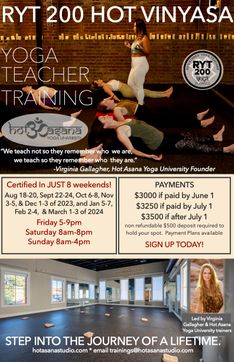 Dates: Aug 18-20, Sept 22-24, Oct 6-8, Nov 3-5, & Dec 1-3 of 2023, and Jan 5-7, Feb 2-4, & March 1-3 of 2024
Times: Fri 5-9pm, Sat 8am-8pm & Sun 8am-4pm
Location: Hot Asana Southern Pines - 10 Camelia Way
Teachers: Virginia Gallagher