200 Hour Teacher Training
Our 200 hour yoga teacher training is designed to take your personal practice and understanding of yoga to a whole new level and provide you with the skillset to offer students an intelligent, dynamic and inspiring yoga class. Our courses are ideal for serious students and aspiring teachers. This teacher training program is designed to provide an in-depth exploration into the practice, process and science of yoga.
Topics covered include:
Detailed, alignment-based posture clinics of more than 50 postures
Multiple methods of sequencing a Vinyasa class
Meditation
Philosophy of yoga
Physical and energetic anatomy
Heat management
Daily physical practice in a heated room
Hot Asana Yoga University offers a wide range of formats and locations to make 200 hour training available to everyone.
Weekend Format
8 weekends
Hours of each weekend: Friday 5-9pm, Saturday 8am-8pm & Sunday 8am-6pm
Locations: Hot Asana Yoga Studios
Intensive Format
2 ten-day sessions
Hours of each session: First Friday 4-9pm , Saturday - Saturday 8am-8pm & Final Sunday of 8am-1pm
Locations: Hot Asana Yoga Studios
Immersion Format
21 consecutive days
Locations: Domestic & International destinations
Click on the individual training posters to see the upcoming trainings.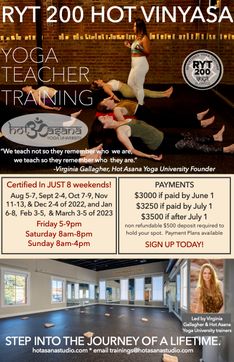 Dates: Aug 5-7, Sept 2-4, Oct 7-9, Nov 11-13, & Dec 2-4 of 2022, and Jan 6-8, Feb 3-5, & March 3-5 of 2023.
Location: Hot Asana Southern Pines - 10 Camelia Way
Teachers: Virginia Gallagher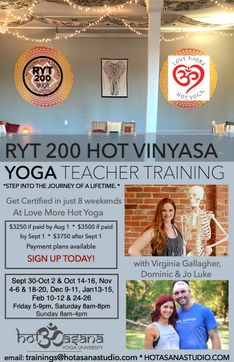 8 Weekend Sessions: Sept 30-Oct 2 & Oct 14-16, Nov 4-6 & 18-20, Dec 9-11 of 2022, & Jan13-15, Feb 10-12 & 24-26 of 2023.
With: Virginia Gallagher, Dominic Luke & Jo Luke
Hours:Fridays 5-9pm, , Saturdays 8am-8pm, Sundays 8am-4pm
At: Love More Hot Yoga in Covington, LA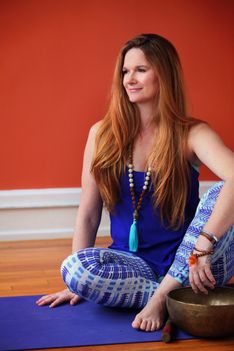 Studio Founder/Owner, E-RYT 500, RCYT, YACEP, Certified Yin Yoga Instructor, Hot Asana Yoga University Founder/Owner, Certified Mindfulness Meditation Teacher
We are all on our own personal journey. I would like to share a little bit about my yoga journey with you…
I attended my first Hot Yoga Class in this very studio on August 12, 2007 and fell in love with the mental and physical connection I felt. I began practicing 3 – 6 times a week, shed 40 pounds in 4 months, and was able to discontinue the use of all of my prescription medications. I began to feel healthier and stronger than ever. Convinced of the benefits of yoga, I continued my daily practice and began to deepen my dedication to and knowledge of yoga.
I began my teacher training in 2008 and since then have completed multiple 200 and 500 hour certifications, Yin Yoga training and Mindfulness Meditation Vipasana. My trainings have been diverse but my teaching style has been primarily influenced by Grace and MyLinda Morales, Jimmy Barkan, Rolf Gates, Chris & John Yax , Deepak Chopra, Bryan Kest and Paul Grilley. I fundamentally believe that anyone can change their body and their life. I believe we can in fact, grow younger and stronger. I would love to show you how Hot Asana can be a part of that change. It doesn't matter when or in what condition you start…JUST START. Your best YOU may very well be yet to come.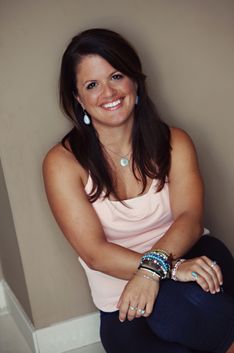 E-RYT 200, RYT 500, Prenatal Certified, Certified Hot Asana Assist, Hot Asana Yoga University Faculty, MPT, C/NDT and BS, Professor of Functional Anatomy
A former collegiate softball player, I found yoga 12 years ago in an attempt to calm my game day nerves. For the first time, my fear of failure and performance anxiety were replaced with a calm, steady awareness, and a deep rooted belief in myself. I learned to breathe and I knew the difference was yoga...
I wish I could say I've practiced every day since, however, in a foolish attempt to chase perfection in my 20's I allowed my work as a PT and other commitments to come before myself,...and yoga. My mat quickly gathered dust in the garage next to my softball glove. Fortunately, I re-committed to yoga in 2009 through LES MILLS Body Flow Certification. I'm eternally grateful for this experience because it brought me back to my mat and began my journey into teaching. It reminded me what I had learned a decade before: "the yoga me is the best me,...the real me." I loved to witness the same transformative experience in others,...to me it is truly remarkable what can happen to the mind body and soul in just 60 minutes.
On a whim, I purchased a Groupon to Hot Asana in 2011. I felt the transformation and once again, a re-commitment to yoga. It's as if YOGA FOUND ME when I truly needed it and for the first time in my life, I began to feel STRONG on the INSIDE. In addition to my regular practice, I have attended workshops/master classes with Seane Corn, Rolf Gates, The Yax Brothers, Tiffany Cruikshank, Grace Morales, Kelly Green and Paige Held. In January 2013 I began my 200hr RYT training with the amazing Grace Morales. The training has been a true gift to me and has inspired me to reclaim the life I always wanted for myself. Knowing now that life begins again many times over, I'm so grateful to Virginia and Grace for the privilege to share yoga with others. Namaste!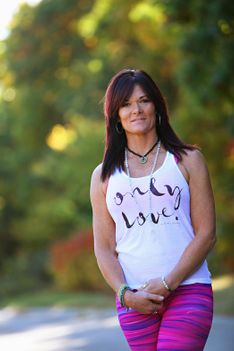 Hampstead Studio Co-Owner, CYT 500, Certified Yin Yoga Instructor
This yoga journey has been quite an amazing ride for me. I started taking classes in 2006 because it was a good "workout." I did not know what was in store for me. Yoga has woven its way into all aspects of my life, and I don't know what I would do without it. Although the physical piece is what lured me into the hot room, it is the spiritual, mind, body connection that keeps me there. Since 2006 life has been a crazy roller coaster for me, as it is for everyone. The great thing about yoga is it gives you the tools to make it through those ups and downs a little more gracefully. Every time you practice you learn something about yourself that you take with you and use out in the world, in your life. Yoga guru BKS Iyengar said, "Yoga uses the body as a tool to touch the soul." This, to me, is the bottom line of yoga. This is what drives me, what motivates me to teach.
Not only has yoga helped me to learn more about myself, it has helped me to connect to so many amazing souls through the years. From my 200 hour (OM Yoga, Cyndi Lee) in 2009, to my 500 hour with John and Chris Yax (Yax Yoga Concepts) in 2012, to all the various trainings in between, I have met wonderful, inspiring people. Now, with the assistance of my dear friend, Virginia Gallgher, it continues here in Hampstead, NH. I am so grateful that my path has lead me here, and I look forward to what is to come!