200 Hour Teacher Training
Our 200 hour yoga teacher training is designed to take your personal practice and understanding of yoga to a whole new level and provide you with the skillset to offer students an intelligent, dynamic and inspiring yoga class. Our courses are ideal for serious students and aspiring teachers. This teacher training program is designed to provide an in-depth exploration into the practice, process and science of yoga.
Syllabus:
We are a Registered Yoga School with a 200-hour program (RYS 200) that will adequately prepare trainees at an advanced level to teach a general adult population incorporating training hours in the following Yoga Alliance Educational Categories:

1) Techniques, Training and Practice: 100 hours

Topics in this category include: asanas, pranayamas, mantra, meditation and other traditional yoga

techniques.

These hours are a mix between:

o 1) analytical training in how to teach and practice the techniques o 2) guided practice of the techniques themselves.

2) Teaching Methodology: 25 hours • Topics in this category include:

o Communication skills such as group dynamics, time management, and the establishment of priorities and boundaries

o How to address the specific needs of individuals and special populations, to the degree possible in a group setting

o Principles of demonstration, observation, assisting and correcting o Teaching styles

o Qualities of a teacher

o The student learning process

o Business aspects of teaching yoga (including marketing and legal)

3) Anatomy and Physiology: 20 hours

Topics in this category include: human physical anatomy and physiology and also include energy

anatomy and physiology (chakras, etc.).

Includes both the study of anatomy and physiology along with its application to yoga practice

(benefits, contraindications, healthy movement patterns, etc.).

4) Yoga Philosophy, Lifestyle and Ethics for Yoga Teachers: 30 hours 
• Topics in this category include: 


o Thestudyofyogaphilosophiesandtraditionaltexts


o Yoga lifestyle, such as the precept of non-violence (ahimsa), and the concepts of dharma and

karma 


o Ethics for yoga teachers, such as those involving teacher – student relationships and

community

o Understandingthevalueofteachingyogaasaserviceandbeingofserviceto
others(seva)

5) Practicum: 10 hours

• Topics in this category include:

o Practice teaching as the lead instructor (does not include assisting, observing or giving feedback)

o Receiving and giving feedback

o Observing others teaching

o Assisting students while someone else is teaching

o 15 Remaining Contact Hours and Elective Hours include theming, heat management and

prenatal basics TOTAL HOURS: 200
Hot Asana Yoga University offers a wide range of formats and locations to make 200 hour training available to everyone.
Weekend Format
8 weekends
Hours of each weekend: Friday 5-9pm, Saturday 8am-8pm & Sunday 8am-6pm
Locations: Hot Asana Yoga Studios
Intensive Format
2 ten-day sessions
Hours of each session: First Friday 4-9pm , Saturday - Saturday 8am-8pm & Final Sunday of 8am-1pm
Locations: Hot Asana Yoga Studios
Immersion Format
21 consecutive days
Locations: Domestic & International destinations
Click on the individual training posters to see the upcoming trainings.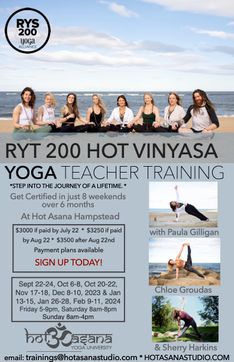 8 Weekend Sessions: Sept 22-24, Oct 6-8, Oct 20-22, Nov 17-18, Dec 8-10, 2023 & Jan 13-15, Jan 26-28, Feb 9-11, 2024
Hours:
Fridays 5-9pm
Saturdays 8am-8pm
Sundays 8am-4pm
With Paula Gilligan & Chloe Groudas & Sherry Harkins
At Hot Asana Yoga Studio Hampstead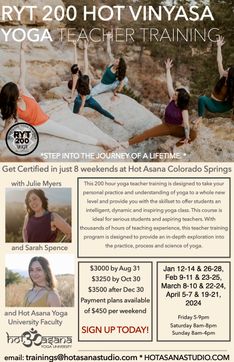 Dates: 8 Weekend Sessions: Jan 12-14 & 26-28, Feb 9-11 & 23-25, March 8-10 & 22-24, April 5-7 & 19-21, 2024
Hours (all in Mountain time): Fridays 5-9pm, Saturdays 8am-8pm, Sundays 8am-4pm
Location: Hot Asana Yoga Studio Colorado Springs
Teachers: Julie Myers, Sarah Spence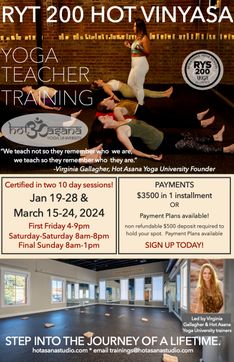 Dates: Jan 19-28 & March 15-24, 2023
Times: First Friday of each 10 day session is 4pm-9pm, Sat-Sat 8am-8pm, The final Sunday of each 10 day session is 8am-1pm
Location: Hot Asana Yoga Studio
Teachers: Virginia Gallagher &. Hot Asana Yoga University