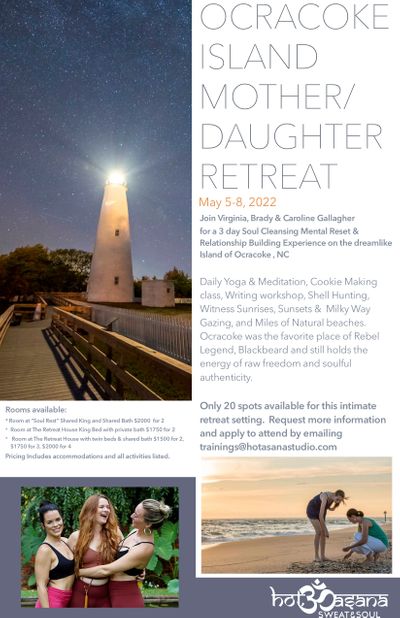 Ocracoke Mother Daughter Retreat
May 5-8, 2022
With Virginia, Brady & Caroline Gallagher
On Ocracoke Island, North Carolina
Join Virginia, Brady & Caroline Gallagher for a three day soul cleansing, mental reset, and relationship building experience on the dreamlike island of Ocracoke, NC. Retreat includes daily yoga and meditation, cookie making class, writing workshop, shell hunting, witness sunrises & sunsets, Milky Way gazing, and miles of natural beaches. Ocraoke was the favorite place of rebel legend Blackbeard and still holds the energy of raw freedom and soulful authenticity.
Limited spots available for this intimate retreat setting. Request more information and apply to attend by emailing trainings@hotasanastudio.com
Private King w/ Private Bath $1600 for 2 people

Private King w/ Shared Bath $1500 for 2 people

Private Loft (2 full beds) w/ Shared Bath $1250 for 2 people, $1500 for 3 people, $1750 for 4 people.

Private Twin (2 twin beds) w/ Shared Bath $1250 for 2 people

Private Bunk Room (2 twins and 1 full bed) $1250 for 2 people, $1500 for 3 people and $1750 for 4 people)

Shared King (2 king beds in Room) with shared bath $1400 for 2 people, $1750 for 3, $1900 for 4 )

Pricing includes accommodations and all listed activities:

$500 deposit paid upon registration to secure your spot.

Deposit and payments are non-transferable and non-refundable.

Price to be paid in full one week from the start of Retreat.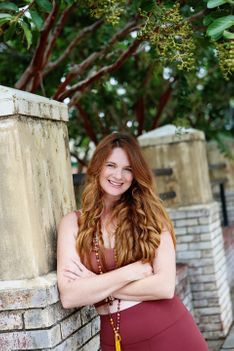 Studio Founder/Owner, E-RYT 500, RCYT, YACEP, Certified Yin Yoga Instructor, Hot Asana Yoga University Founder/Owner, Certified Mindfulness Meditation Teacher
We are all on our own personal journey. I would like to share a little bit about my yoga journey with you…
I attended my first Hot Yoga Class in this very studio on August 12, 2007 and fell in love with the mental and physical connection I felt. I began practicing 3 – 6 times a week, shed 40 pounds in 4 months, and was able to discontinue the use of all of my prescription medications. I began to feel healthier and stronger than ever. Convinced of the benefits of yoga, I continued my daily practice and began to deepen my dedication to and knowledge of yoga.
I began my teacher training in 2008 and since then have completed multiple 200 and 500 hour certifications, Yin Yoga training and Mindfulness Meditation Vipasana. My trainings have been diverse but my teaching style has been primarily influenced by Grace and MyLinda Morales, Jimmy Barkan, Rolf Gates, Chris & John Yax , Deepak Chopra, Bryan Kest and Paul Grilley. I fundamentally believe that anyone can change their body and their life. I believe we can in fact, grow younger and stronger. I would love to show you how Hot Asana can be a part of that change. It doesn't matter when or in what condition you start…JUST START. Your best YOU may very well be yet to come.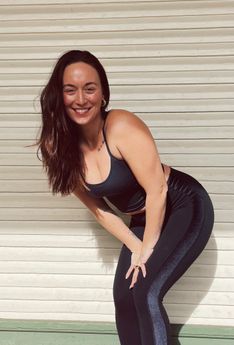 Hot Asana Lead Teacher and Studio Ambassador, E-RYT 500, YACEP, Hot Asana Yoga University Faculty, Yin Yoga Certified, Hot Asana Certified Assist, Hot Asana Online Instructor, Hot Yoga Instructor, Aerial Yoga Instructor, BARRE instructor, Restorative Yoga Instructor, CPR/First Aid Certified and Reiki Certified
"Movement is the only way you have of affecting the world around you. The body will become better at whatever you do, or don't do. If you don't move, your body will make you better at not moving."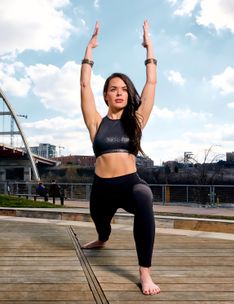 RYT-200, ACE CPT (Certified Personal Trainer), Mat Pilates, Certified Hot Asana Assist. I'm also currently pursuing 500 hrs through HAYU, another CPT with NASM, and GFI (Group Fitness Instructor) with AFAA.
My fitness journey began in high school when I saw a doctor for back pain caused by poor posture as a result of lack of muscle strength around my spine, who prescribed yoga and pilates to strengthen my core. I started with Pilates and loved it enough to become a Certified Mat Pilates instructor. Soon after I began a hot yoga practice, and in college became a Certified Yoga Instructor. After college, I moved to Nashville where I discovered Barry's (formerly Barry's Bootcamp) which really ignited my passion for fitness. I had struggled with my weight through high school and college, and Barry's was the first workout from which I really saw physical results, and where I felt more than part of a community, but part of a family. For a few years I also battled mental health challeges, and fitness not only gave me confidence in my physical body again, but healed me mentally and emotionally. After working with a few Barry's instructors as personal trainers, I was inspired to become a personal trainer, and am now working toward becoming a group fitness instructor as well. If I can inspire in just one other person the same life-changing passion for fitness that others have inspired in me, then I will consider that a success!