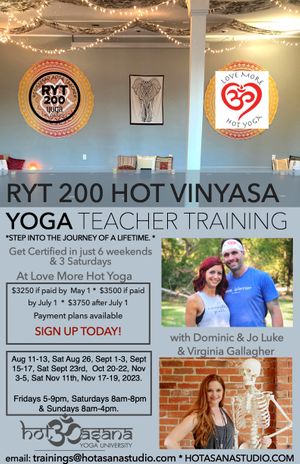 200 Hour Yoga Teacher Training at Love More Hot Yoga in Covington, LA
7 Weekend Sessions: Six weekend sessions and 3 Saturdays make up this training: Aug 11-13, Sat Aug 26, Sept 1-3, Sept 15-17, Sat Sept 23rd, Oct 20-22, Nov 3-5, Sat Nov 11th, Nov 17-19, 2023.
With: Virginia Gallagher, Dominic Luke & Jo Ellen Luke
Hours: Fridays 5-9pm, Saturdays 8am-8pm & Sundays 8am-4pm. 

At: Love More Hot Yoga in Covington, LA
This 200 hour yoga teacher training is designed to take your personal practice and understanding of yoga to a whole new level and provide you with the skillset to offer students an intelligent, dynamic and inspiring yoga class. This course is ideal for serious students and aspiring teachers. With thousands of hours of teaching experience, this teacher training program will provide an in-depth exploration into the practice, process and science of yoga. For more information please contact trainings@hotasanastudio.com
PRICING
Tuition:
$3250 if paid by May 1 * $3500 if paid by July 1 * $3750 after July 1

Payment plans available
Non-refundable $500 deposit required upon registration.
We recognize that the $500 deposit is your good faith intention and commitment to paying for this training in full. Therefore, deposits and payments are non-refundable and non-transferable.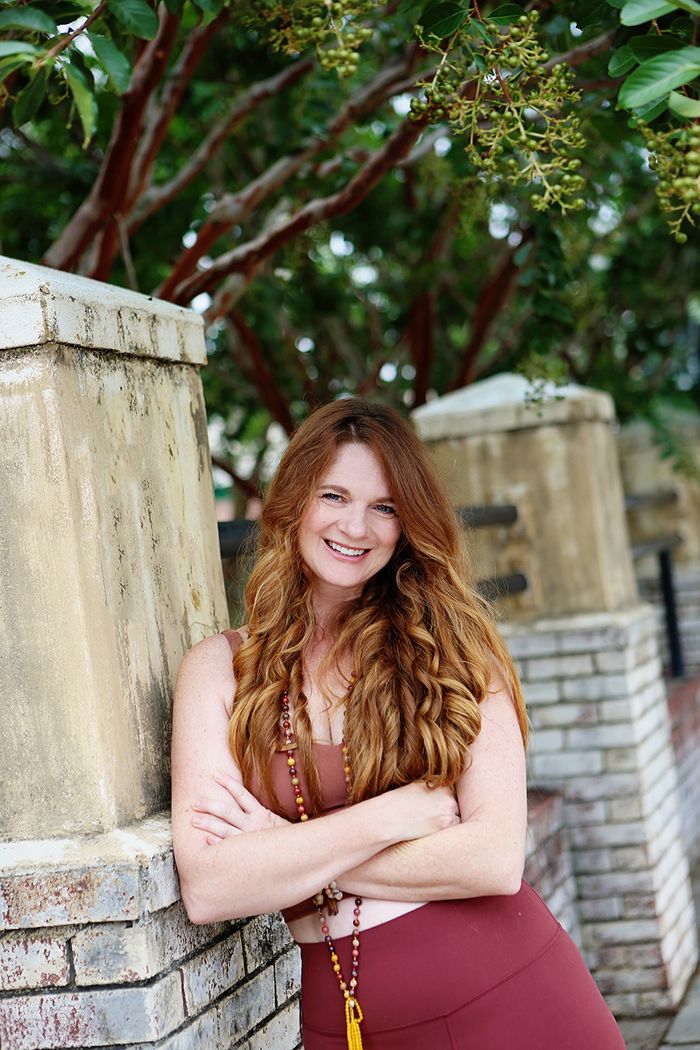 Studio Founder/Owner, E-RYT 500, RCYT, YACEP, Certified Yin Yoga Instructor, Hot Asana Yoga University Founder/Owner, Certified Mindfulness Meditation Teacher
We are all on our own personal journey. I would like to share a little bit about my yoga journey with you…
I attended my first Hot Yoga Class in this very studio on August 12, 2007 and fell in love with the mental and physical connection I felt. I began practicing 3 – 6 times a week, shed 40 pounds in 4 months, and was able to discontinue the use of all of my prescription medications. I began to feel healthier and stronger than ever. Convinced of the benefits of yoga, I continued my daily practice and began to deepen my dedication to and knowledge of yoga.
I began my teacher training in 2008 and since then have completed multiple 200 and 500 hour certifications, Yin Yoga training and Mindfulness Meditation Vipasana. My trainings have been diverse but my teaching style has been primarily influenced by Grace and MyLinda Morales, Jimmy Barkan, Rolf Gates, Chris & John Yax , Deepak Chopra, Bryan Kest and Paul Grilley. I fundamentally believe that anyone can change their body and their life. I believe we can in fact, grow younger and stronger. I would love to show you how Hot Asana can be a part of that change. It doesn't matter when or in what condition you start…JUST START. Your best YOU may very well be yet to come.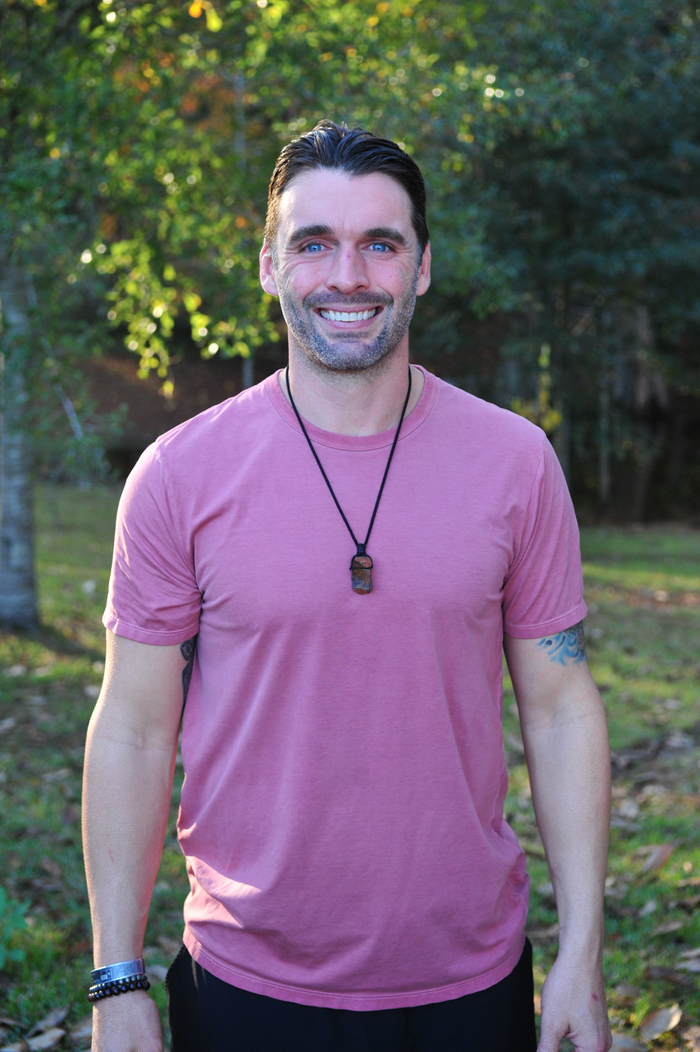 Dominic Luke, Studio Founder/Owner of Love More Hot Yoga, RYT 200hr , Hands On Assist Certified Yoga Instructor, Veteran Pararescueman, XPT Coach, Private Performance Coach
I discovered my journey of yoga while training to become an Air Force Special Operations Pararesceuman or PJ. Initially, I practiced yoga to stretch and relieve stress from the physically and mentally demanding career field. As I connected more personally with my practice, I discovered there was something much deeper within myself and within the yoga journey. Upon separating from Active Duty and transitioning back into the civilian lifestyle, I found my practice was a way to navigate this journey.
Looking for a way to live by the PJ's motto of "These Things We do, That Other's My Live," I decided to deepen my practice and get certified as a Yoga Alliance 200hr Certified Yoga Instructor ,through Reyn Studios in New Orleans, LA.
I have a passion for helping people and offering space for someone to learn and become the best version of themselves. These trainings have helped guide me to this place and I am honored to share it with you.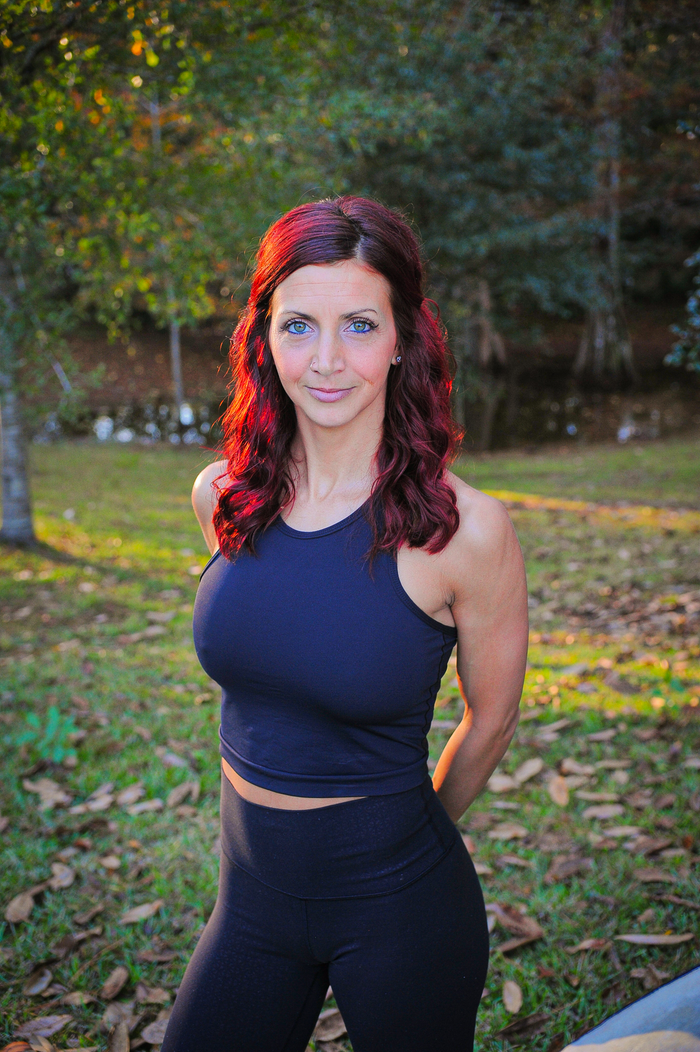 JoEllen Luke, Studio Owner, ERYT 500, Certified Hands On Assist, Certified Yin Yoga, Certified Pre & Postnatal yoga Instructor, Kids Yoga Certified
Studio Founder/Owner of Love More Hot Yoga, ERYT 500, Certified Hands On Assist Instructor, Certified Yin Yoga Instructor, Certified Pre & Postnatal Yoga Instructor, Kids Yoga CertifiedInstructor
Everyone's story is divinely unique and different. We are all here to live the life that is meant for us and uncover our own personal journey.
I found yoga while living in Las Vegas and teaching elementary children. My now husband, Dominic, was the one who introduced me to the practice and helped to inspire my journey. It wasn't until we moved to Southern Pines, NC, where I found "my" yoga, which has ever since allowed me to do the work of living in my truth and becoming the truest essence of who I am.
In 2016, I received my 200hr RYT Certification with Virginia Gallagher through Hot Asana University in Tulum, Mexico. I quickly realized that I wanted to continue to learn more and grow and I continued my training with Hot Asana University and completed my 500hr RYT Certification in early 2017.
Since completing my 500hr RYT certification, and taking other certification courses, we moved to Covington, Louisiana, opened our yoga studio, Love More Hot Yoga, and began the journey of guiding others through their own personal journey into their truth and remembering the essence who they are.
I believe that we have the opportunity to awaken and live our life to the fullest, as this is what yoga teacher training has done for me, and I look forward to sharing how Hot Asana University and Love More Hot Yoga can be a part of that for you.