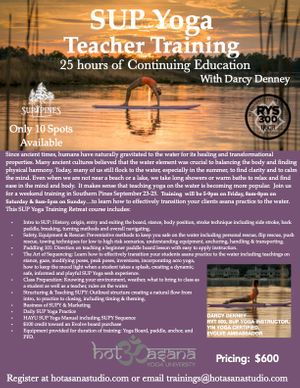 25 Hour Stand Up Paddleboard Yoga (SUP) Teacher Training
Dates: Sept 23-25, 2022.
Hours: Friday, 8am-8pm on Saturday & 8am-5pm on Sunday
Location: Southern Pines, NC
Teachers: Darcy Denney
Since ancient times, humans have naturally gravitated to the water for its healing and transformational properties. Many ancient cultures believed that the water element was crucial to balancing the body and finding physical harmony. Today, many of us still flock to the water, especially in the summer, to find clarity and to calm the mind. Even when we are not near a beach or a lake, we take long showers or warm baths to relax and find ease in the mind and body. It makes sense that teaching yoga on the water is becoming more popular. Join us for a weekend training in Southern Pines September 23-25. Training will be 5-9pm on Friday, 8am-8pm on Saturday & 8am-5pm on Sunday…to learn how to effectively transition your clients asana practice to the water. This SUP Yoga Training Retreat course includes:
Intro to SUP: History, origin, entry and exiting the board, stance, body position, stroke technique including side stroke, back paddle, breaking, turning methods and overall navigating.
Safety, Equipment & Rescue: Preventative methods to keep you safe on the water including personal rescue, flip rescue, push rescue, towing techniques for low to high risk scenarios, understanding equipment, anchoring, handling & transporting.
Paddling 101: Direction on teaching a beginner paddle board lesson with easy to apply instruction.
The Art of Sequencing: Learn how to effectively transition your students asana practice to the water including teachings on stance, gaze, modifying poses, peak poses, inversions, incorporating acro yoga, how to keep the mood light when a student takes a splash, creating a dynamic, safe, informed and playful SUP Yoga sesh experience.
Class Preparation: Knowing your environment, weather, what to bring to class as a student as well as a teacher, rules on the water.
Structuring & Teaching SUPY: Outlined structure creating a natural flow from intro, to practice to closing, including timing & theming.
Business of SUPY & Marketing
Daily SUP Yoga Practice
HAYU SUP Yoga Manual including SUPY Sequence
$100 credit toward an Evolve board purchase
Equipment provided for duration of training: Yoga Board, paddle, anchor, and PFD.
Evolve and deepen your understanding of the teaching the science of yoga. This 25-hour yoga teacher training module has been carefully constructed to expand your knowledge, skill set and confidence as both a teacher and a student. The work that we do as yoga teachers is key in both the mental and physical wellness of our communities. Elevate your credentials to teach beyond the introductory information commonly delivered in a 200-hour teacher training. This is one of many modules set up by Hot Asana Yoga University to stand alone as continuing education or to allow you to build your 300-hour certification at your own pace. You have up to five years to complete all 270 contact hours for a 300-hour certification.
PRICING
Pricing: $600
$500 deposit paid upon registration to secure your spot.
Deposit is non-transferable and non-refundable.
Tuition to be paid in full one week from the start of training.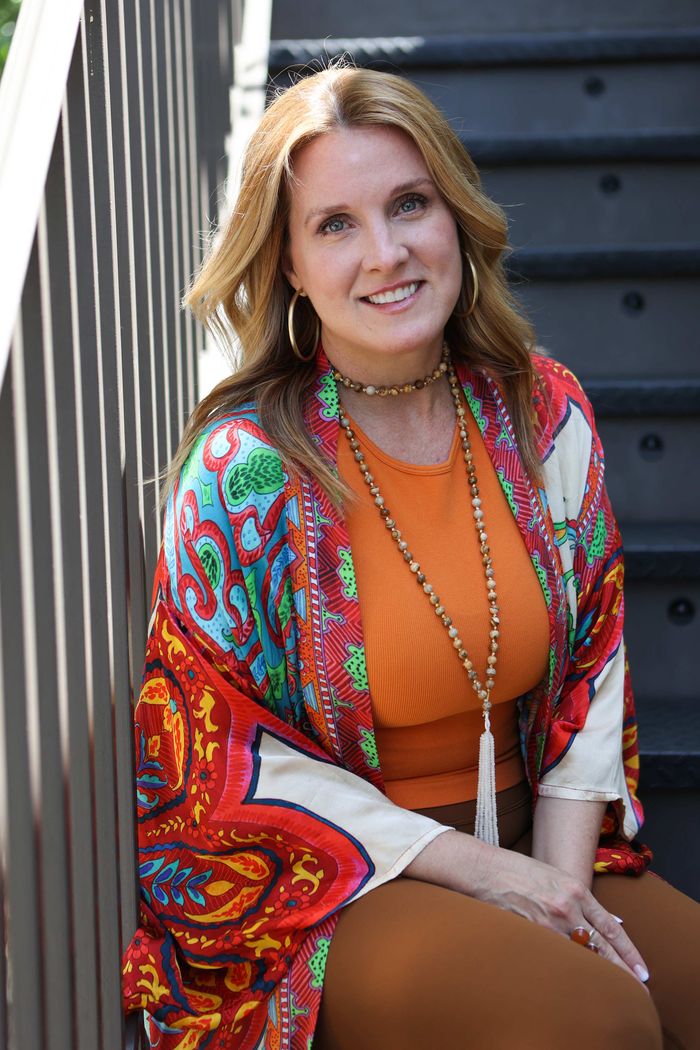 RYT 500, SUP Yoga Instructor, Certified Yin Yoga Instructor, Evolve ambassador, Hot Asana Yoga University Trainer, Hot Asana Online Instructor
Yoga to me is not just something I do, but rather a way of life. I stepped on my mat about 5 years ago merely for the physicality of it. I was on my way to being fit and was bored with the typical gym setting. Little did I know I was about to step into a journey much more than just physically, but on a journey inward to meet myself. After a few years of practicing the asanas and dipping my toe into the spiritual side of yoga I realized it was much more than just what goes down on the mat. It's a shift in focus on how reality is perceived, how you perceive others and most importantly yourself. Yoga brings you back into life, allows you to remember yourself, remember your purpose. It gives you the tools to find balance, to sit in the seat of awareness, to get away from the conflicts of your thoughts, the day to day shuffle and rushing through life, helping you to be in the present moment and to live life the way it was intended...now. In this socially stimulating world we've created its nice to have somewhere to go to unplug. Just roll out your mat, center, and let the beautiful experience unfold. It's here where you will find your truth.
I completed my certification for RYT 200 hour at the Yoga Alliance recognized Hot Asana Yoga University with the amazing Virginia Gallagher & beautiful Lisa Tiffany. I have also taken workshops with master teachers John & Chris Yax, Kathryn Budig & Taylor Harkness, and Lisa Tiffany & Cameron Harris.
My name is Darcy Denney and I am a yoga teacher...come with me on this journey to not only better your physical body but enlighten your spirit as well. Live, life, now.