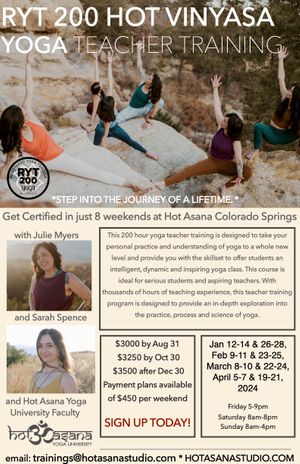 200 Hour Yoga Teacher Training in Colorado Springs, CO
Dates: 8 Weekend Sessions: Jan 12-14 & 26-28, Feb 9-11 & 23-25, March 8-10 & 22-24, April 5-7 & 19-21, 2024
Hours (all in Mountain time): Fridays 5-9pm, Saturdays 8am-8pm, Sundays 8am-4pm
Location: Hot Asana Yoga Studio Colorado Springs
Teachers: Julie Myers, Sarah Spence
This 200 hour yoga teacher training is designed to take your personal practice and understanding of yoga to a whole new level and provide you with the skillset to offer students an intelligent, dynamic and inspiring yoga class. The course is ideal for serious students and aspiring teachers. With thousands of hours of teaching experience, this teacher training program will provide an in-depth exploration into the practice, process and science of yoga.
TUITION
$3000 by Aug 31
$3250 by Oct 30
$3500 after Dec 30
Payment plans available of $450 per weekend
Non-refundable $500 deposit required upon registration.
We recognize that the $500 deposit is your good faith intention and commitment to paying for this training in full. Therefore, deposits and payments are non-refundable and non-transferable.