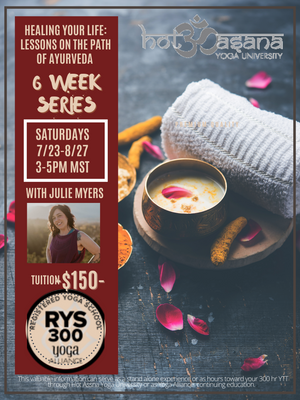 12 Hours | Healing Your Life: Lessons on the Path of Ayurveda
Six Week Series: Saturdays | 7/23, 7/30, 8/6, 8/13, 8/20, 8/27
Hours (in MST): 3-5pm
With Julie Myers | Ayurvedic Health Counselor
Location: Hot Asana Colorado Springs
$150 Tuition
Tuition : $150 Plus recommended materials - approximately $75
Tongue Scraper, Sinus Kit, Healing Your Life Book, Massage Oil, Glass Bottle, Eye Wash Cup, Rose Water
Learn how to take charge of your health and prevent disease. Ayurveda is the oldest system of medicine in the world, the sister science to Yoga, and addresses healing at the root. In these 6 classes, learn how to bring the
ancient teachings of Ayurveda into your life. We will cover the basic principles of Ayurveda, your natural constitution and the nature of any imbalances you may have, and the cause of disease. We will discover how to heal imbalances using five sense therapies, including: food, touch (self-massage), aromatherapy, color therapy, music therapy and healthy lifestyle routines. You will learn self healing techniques including meditation, nasal cleansing, pranayama (breathing techniques), and more!
During these 6 weeks, you'll learn key principles of Ayurveda and practical ways to implement this ancient science into your modern life. This program is based on the popular book "Healing Your Life" by Dr. Marc Halpern.
This workshop can be used as a stand alone experience or hours can be used towards a 300 hour certificate through Hot Asana Yoga University or towards continuing education requirements.
Julie Myers is an Ayurvedic Health Counselor Intern at the Californial College of Ayurveda. She is on the path to become a Clinical Ayurveda Specialist. Julie has been fascinated with our innate ability to heal ourselves through yoga after her practicing yoga with her grandmother at a young age. After studying and practicing as a Physical Therapy Assistant, she felt called to dive deeper into yoga and became a teacher so she could share its potent healing potential. She began practicing Ayurveda after her own experience with near burn out and is excited to share holistic methods to reclaim our power to heal ourselves.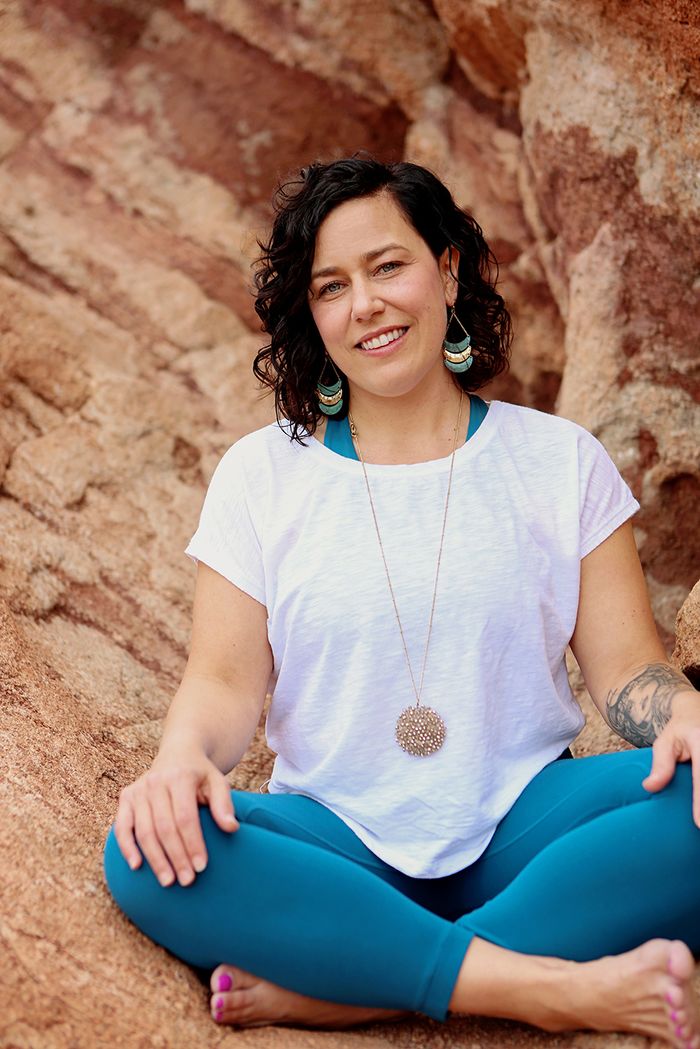 CYT 500, Certified Hot Asana Assist
Julie completed her first yoga training in 2012, but she feels she has been studying yoga her whole life. She has always found movement to be a nurturing, powerful force in her life. Always up for a new experience, she went to her first yoga class on a whim and fell in love with the expansive feeling that asana practice gave her. The encouraging and nurturing community that yoga creates has inspired her to grow and expand in ways she never imagined. It is this experience she hopes to share with her students. She aims to inspire students to deepen their practice and realize their potential through all yoga has to offer.
Julie trained with Siva Power Yoga in Wichita, KS where she earned her 200 hour certification and has continued her education through Corepower Yoga. She earned her Bachelor's Degree in Exercise Science at Wichita State University and Associates Degree in Physical Therapy from Kansas City Kansas Community College. She has been working in the field of health and fitness for 10 years with experience in personal and group training, yoga, athletic performance, and rehabilitation.