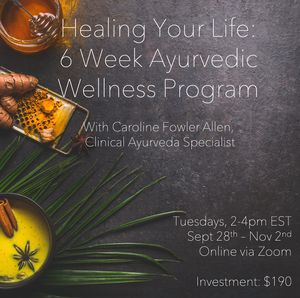 12 Hours | Healing Your Life: Lessons on the Path of Ayurveda
Six Week Series: Tuesdays | September 28-November 2
Hours (in Eastern): 2-4pm
With Caroline Fowler Allen, Clinical Ayurveda Specialist
Online via Zoom (recordings & slides to be made available if you cannot attend live!)
$190 Tuition
Learn how to take charge of your health and prevent disease. Ayurveda is a more than 5,000 year old tradition and a sister science to yoga. During these 6 weeks, you'll learn key principles of Ayurveda and practical ways to implement this ancient science into your modern life. This program is based on the popular book "Healing Your Life" by Dr. Marc Halpern.
Hours can be used towards a 300 hour certificate through Hot Asana Yoga University or towards continuing education requirements.
Caroline Fowler Allen is a Clinical Ayurveda Specialist, graduated from the California College of Ayurveda in 2016, and she is a certified Ayurvedic Chef. Currently living in Puerto Aventuras, México, Caroline was initially drawn to yoga, and later Ayurveda, as a way to heal herself from a traumatic event. She found that moving the body and breathing deeply eventually stilled the mind. Caroline supports clients to integrate key principles of Ayurveda in their everyday life to support healthy habits, improve energy, and manage different physical and mental conditions or diseases.