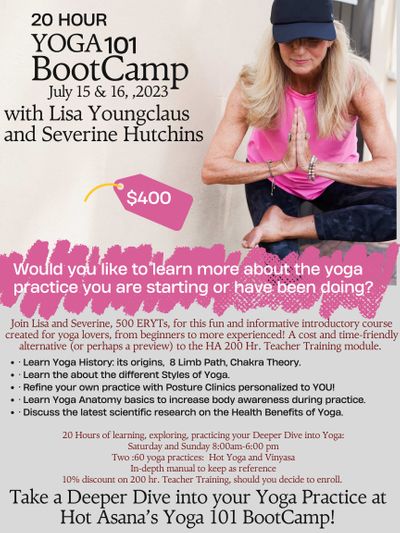 Yoga 101 Bootcamp: a deep dive into learning more about your yoga practice
2o hour Yoga 101 Bootcamp
July 15 & 16
with Lisa Youngclaus & Severine Hutchins
$400 per person
Would you like to learn more about the yoga practice you are starting or have been doing?
Join Lisa and Severine, 500 ERYTs, for this fun and informative introductory course created for yoga lovers, from beginners to more experienced! A cost and time-friendly alternative (or perhaps a preview) to the HA 200 Hr. Teacher Training module.
• Learn more about Yoga: its origins, ancient yoga philosophy, energetic theories: 8 Limb Path, Chakra Theory.
• Learn the about the different Styles of Yoga practiced today.
• Refine your own practice and correct your poses with Posture Clinics personalized to YOU!
• Learn the basics of Yoga Anatomy to increase your body awareness during practice.
• Discuss the latest scientific research on the Health
Benefits of Yoga. 20 Hours of learning, exploring, practicing your Deeper Dive into Yoga:
Saturday and Sunday 8:00am-6:00 pm
Two :60 yoga practices
In-depth manual to keep as reference
10% discount on 200 hr. Teacher Training, should you decide to enroll!
Take a Deeper Dive into your Yoga Practice at Hot Asana's Yoga 101 BootCamp!
Would you like to learn more about the yoga practice you are starting or have been doing?
Would you like to learn more about the history of yoga, its core philosophies?
Would you like to understand the differences between different styles of yoga?
Would you like to be sure you are doing poses properly?
Would you be interested in understanding the "why" behind yoga class sequencing and how it benefits your body?
Are you curious about the health benefits of yoga, the scientific evidence, and how the physical and mental benefits of yoga compare to other fitness activities?
IF SO….
Perhaps you have considered taking 200 hr. Teacher training but have been hesitant to invest the time and money? Perhaps you aren't currently planning to become a yoga teacher, but wish to learn more?
Consider this deep dive into the understanding of Yoga… for your own interests!
Become more connected to your practice.
Ask and be able to answer questions for yourself or for friends and family who ask you about yoga.
Decide if you want to learn more. Maybe you DO want to continue on to 200 hr. Teacher training and consider becoming a teacher?
This introductory course in Yoga will get you started on your journey!