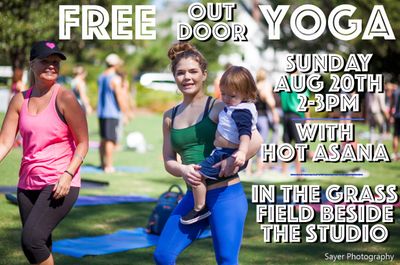 FREE Outdoor Yoga in August
Date: Sunday August 20th
Location: In the grass beside Hot Asana Southern Pines
Times: 2-3pm
Instructor: Madison Bovais
Cost: FREE
Yes...thats right!! FREE Outdoor Yoga in the GRASS FIELD right beside the studio. Bring your spouse, bring a friend or bring ALL of your friends. This will be a wonderful 60 minutes of yoga. All experience levels are welcome. No pre-registration is required...just show up. If you have a mat, bring it!