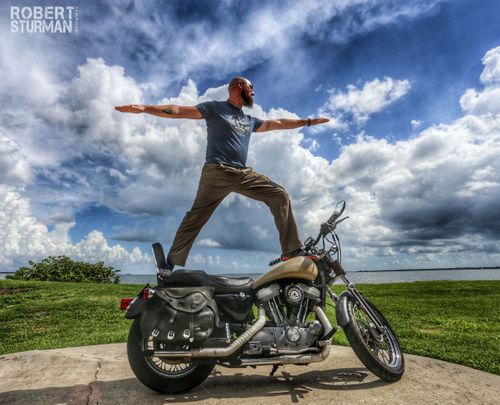 NICOLAS CARIS
NICOLAS CARIS
Nick grew up in Uhrichsville, a small town in Ohio. He enlisted in the U.S. Marine Corps as an infantryman when he turned 18 years old. In August 2011, after five years of service and three deployments, Nicholas was honorably discharged from the Marine Corps and moved to Tampa, Florida.
Nick tried his first yoga class within a few days of being in his new city and was sure that he would never go back again. Shortly after this time, he began to notice some serious physical problems and they started to negatively impact his life. He was also struggling with post-traumatic stress and traumatic brain injuries as a result of his military service. Nick became friends with a yoga teacher, and she urged him to come back to a less intensive class. After a few of these recommended classes, Nick started to feel the physical benefits of yoga, and despite his initial experience with it, he soon feel in love with the practice.
Still struggling with his physical and mental challenges Nick decided to take it a step further, and in 2014, he signed up for a 200-hour RYT teacher training. This particular training was eight months long and he knew his journey had just begun. Today Nick teaches yoga on a regular basis at the Tampa VA Hospital as part of programs with Warriors at Ease and Exalted Warrior Foundation. He also supports Warriors at Ease training and veterans retreats.
Yoga for him isn't just a class in a studio, it is a tool for every moment in his life to battle the physical and mental challenges he still faces every day. Along the way, he's honored to be able to support fellow veterans through his life experiences and his practice of yoga and meditation.
Nick is currently the Deputy Director of Yoga For Vets and a Program Manager and Data Analyst for Warriors at Ease.