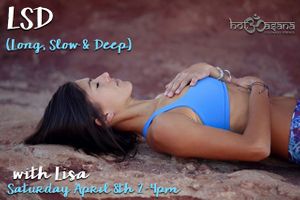 LSD (long, slow & deep)
Date: Saturday April 8th
Location: Hot Asana Colorado Springs
Times:2-4pm
Instructors: Lisa Tiffany
Cost: Regular Class Price
Long, Slow, Deep

A deep and challenging alternative to the myriad of Vinyasa and flowing yoga classes. A practice that is utterly potent without focusing on strength, endurance or even building much heat. Experience the benefits of holding poses a little longer, giving massive areas such as hamstrings, hips, and shoulders more time to release and go deeper into poses. This is truly an amazing routine yet we rarely leave the floor. This class is suited for students of all levels.