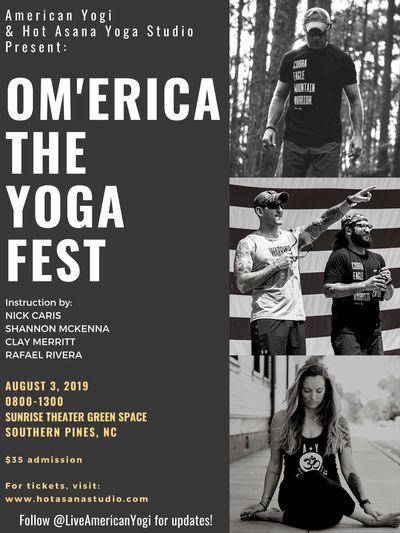 OM'ERICA - The Yogafest
August 3, 2019

Since the inception of American Yogi, our community has grown thousands strong. We span across the nation and across the globe. We are veterans, paramedics, farmers, mechanics, teachers, mothers, and fathers. We are fighters. We are seekers of peace.

And at OM'erica: The Yoga Fest, we can practice together.

Join us August 3rd from 0800 to 1300 at the Sunrise Theater green space in downtown Southern Pines, NC for OM'erica: The Yoga Fest. A day of yoga that represents the American Yogi family.

The day will highlight veteran-owned businesses, vendors, organizations and include four outdoor classes taught by certified yoga instructors who are also vets.

The proceeds of the event will benefit the community on two fronts. First, the money raised will send one veteran through 200-hour yoga teacher training through Hot Asana Yoga University. Additionally, a portion of the proceeds will go directly to The Exalted Warrior Foundation, a 503(c) nonprofit that facilitates adaptive yoga instruction for wounded warriors across the country.

Price of entry gets you admission to four classes as well as access to vendors, raffles, beer and food trucks!

Bring your mat, a towel, and favorite yoga buddies for a morning of peace and community.

And as always, American Yogi merch will be available for purchase, including a limited-edition shirt designed especially for the event!

Admission will be available for purchase on site, but due to limited capacity of the outdoor space, we recommend you book early to ensure a spot!

$35 per person

Limited spaces available. Reserve Your Spot Here!