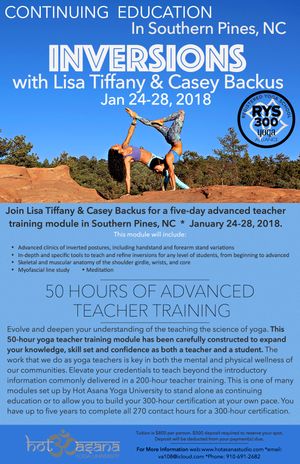 50 hour Inversion Module in Southern Pines, NC
Join Lisa Rischitelli and Casey Backus for a five-day advanced teacher training module in Southern Pines, NC, January 24-28, 2018.
This module will include:
· Advanced clinics of inverted postures, including handstand and forearm stand variations
· In-depth and specific tools to teach and refine inversions for any level of students, from beginning to advanced
· Skeletal and muscular anatomy of the shoulder girdle, wrists, and core
· Myofascial line study
· Meditation
Evolve and deepen your understanding of teaching the science of yoga. This 50-hour yoga teacher training module has been carefully constructed to expand your knowledge, skill set and confidence as both a teacher and a student. The work that we do as yoga teachers is key in both the mental and physical wellness of our communities. Elevate your credentials to teach beyond the introductory information commonly delivered in a 200-hour teacher training. This is one of many modules set up by Hot Asana Yoga University to stand alone as continuing education or to allow you to build your 300-hour certification at your own pace. You have up to five years to complete your 300-hour certification.
PRICING
Tuition is $800 per person. $500 deposit required to reserve your spot. Deposit will be deducted from your payment(s) due.
NOTE: Hot Asana staff discount applies.
All payments are non-refundable and non-transferable.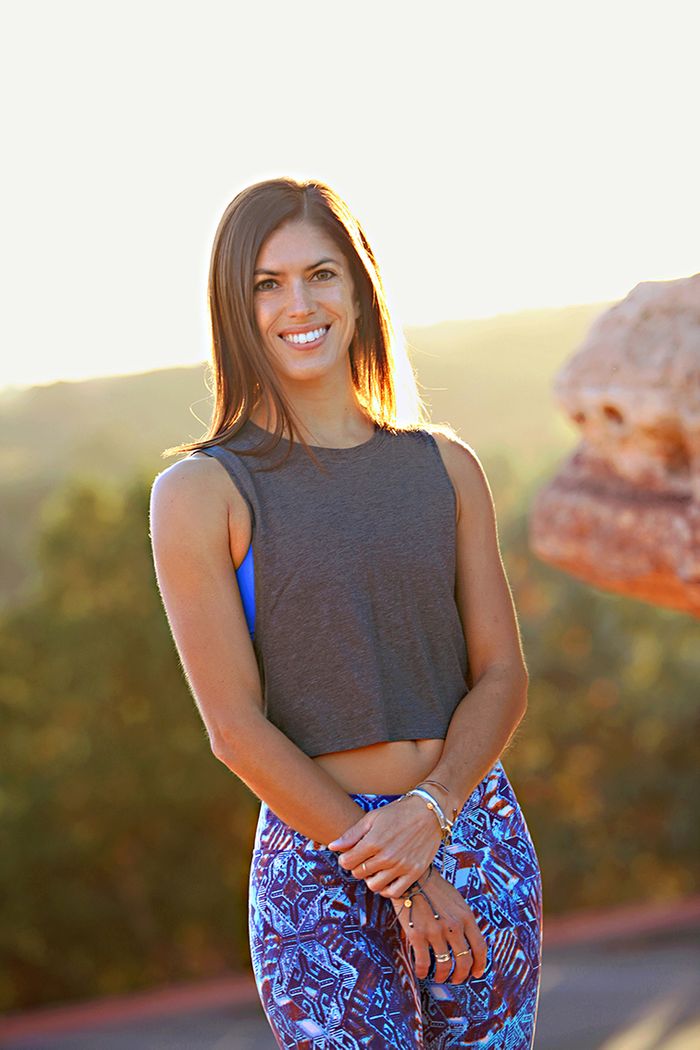 COS Teacher Director, E-RYT 500, Certified Hot Asana Assist, Hot Asana Yoga University Faculty, YACEP
After years of training in classical ballet and modern dance, Lisa first tried yoga in the hopes of finding a workout which balanced both strength and flexibility. She became hooked when she realized that she had also discovered a community which found beauty in so-called imperfections and encouraged compassion for others and oneself—plus yoga still kicked her butt on a regular basis.
Lisa completed her 200-hour certification with YogaWorks in New York in 2010 and her 500-hour certification with Grace Morales in North Carolina in 2014. She is registered with Yoga Alliance, with more than 1,000 teaching hours. Lisa's classes emphasize alignment, playfulness, and inclusiveness. With a deep understanding of the body, Lisa gives students the opportunity to make the most out of their practice through accessible sequencing and concise cues.
When not on the mat, Lisa enjoys cooking vegetarian food, sharing a bottle of wine with friends, snuggling with her two cats and three dogs.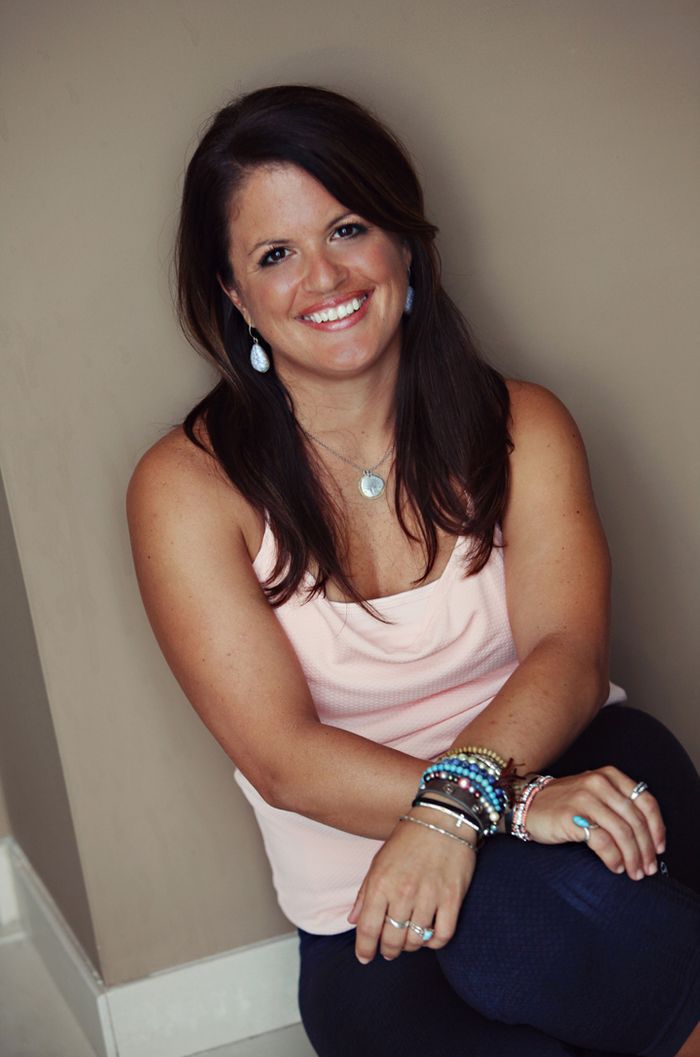 E-RYT 200, RYT 500, Prenatal Certified, Certified Hot Asana Assist, Hot Asana Yoga University Faculty, MPT, C/NDT and BS, Professor of Functional Anatomy
A former collegiate softball player, I found yoga 12 years ago in an attempt to calm my game day nerves. For the first time, my fear of failure and performance anxiety were replaced with a calm, steady awareness, and a deep rooted belief in myself. I learned to breathe and I knew the difference was yoga...
I wish I could say I've practiced every day since, however, in a foolish attempt to chase perfection in my 20's I allowed my work as a PT and other commitments to come before myself,...and yoga. My mat quickly gathered dust in the garage next to my softball glove. Fortunately, I re-committed to yoga in 2009 through LES MILLS Body Flow Certification. I'm eternally grateful for this experience because it brought me back to my mat and began my journey into teaching. It reminded me what I had learned a decade before: "the yoga me is the best me,...the real me." I loved to witness the same transformative experience in others,...to me it is truly remarkable what can happen to the mind body and soul in just 60 minutes.
On a whim, I purchased a Groupon to Hot Asana in 2011. I felt the transformation and once again, a re-commitment to yoga. It's as if YOGA FOUND ME when I truly needed it and for the first time in my life, I began to feel STRONG on the INSIDE. In addition to my regular practice, I have attended workshops/master classes with Seane Corn, Rolf Gates, The Yax Brothers, Tiffany Cruikshank, Grace Morales, Kelly Green and Paige Held. In January 2013 I began my 200hr RYT training with the amazing Grace Morales. The training has been a true gift to me and has inspired me to reclaim the life I always wanted for myself. Knowing now that life begins again many times over, I'm so grateful to Virginia and Grace for the privilege to share yoga with others. Namaste!