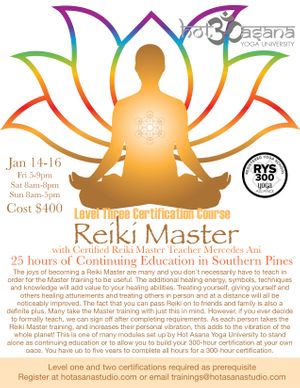 25 Hours | Reiki Master Level
January 14-16, 2022
Hours (all in Eastern): Friday 5-9pm, Saturday 8am-8pm, Sunday 8am-5pm
With Mercedes Ani
Hot Asana Yoga Studio (10 Camelia Way in downtown Southern Pines)
The joys of becoming a Reiki Master are many and you don't necessarily have to teach in order for the Master training to be useful. The additional healing energy, symbols, techniques and knowledge will add value to your healing abilities. Treating yourself, giving yourself and others healing attunements and treating others in person and at a distance will all be noticeably improved. The fact that you can pass Reiki on to friends and family is also a definite plus. Many take the Master training with just this in mind. However, if you ever decide to formally teach, we can sign off after completing requirements. As each person takes the Reiki Master training, and increases their personal vibration, this adds to the vibration of the whole planet! Reiki Levels 1 & 2 certifications required as prerequisite.
This training will include: Reiki To Reverse Aging, Symbols, Distance Sessions with Level 3 Symbols, Techniques For Transmitting Energy From A Distance, Distance Healing With Group Reiki, Reiki Level 3 Energetic Exercises, Crystals In Reiki Level 3, The Inner Smile, Reiki Business Tip, Further Learning, How to Become a Reiki Master Teacher
Tuition: $400

$250 deposit paid upon registration to secure your spot.

Deposit and payments are non-transferable and non-refundable.

Tuition to be paid in full one week from the start of training.
Hours can be used towards a 300 hour certificate through Hot Asana Yoga University or towards continuing education requirements.