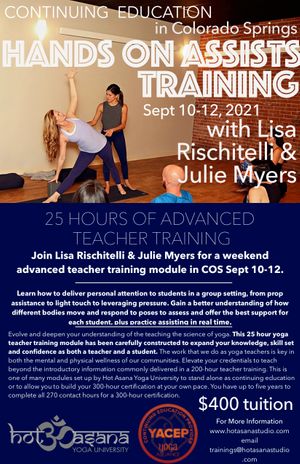 25 Hours | Hands-On Assisting *in Colorado Springs*
September 10-12, 2021

Hours (all in Mountain time): Friday 5-9pm, Saturday 8am-8pm, Sunday 8am-5pm

With Lisa Rischitelli & Julie Myers

At Hot Asana Yoga Studio Colorado Springs
Learn how to deliver personal attention to students in a group setting, from prop assistance to light touch to leveraging pressure. Gain a better understanding of how different bodies move and respond to poses to assess and offer the best support for each student, plus practice assisting in real time. E-manual provided.

Hours can be used towards a 300 hour certificate through Hot Asana Yoga University or towards continuing education requirements.
PRICING
Tuition: $400
$250 deposit paid upon registration to secure your spot.
Deposit and payments are non-transferable and non-refundable.
Tuition to be paid in full one week from the start of training.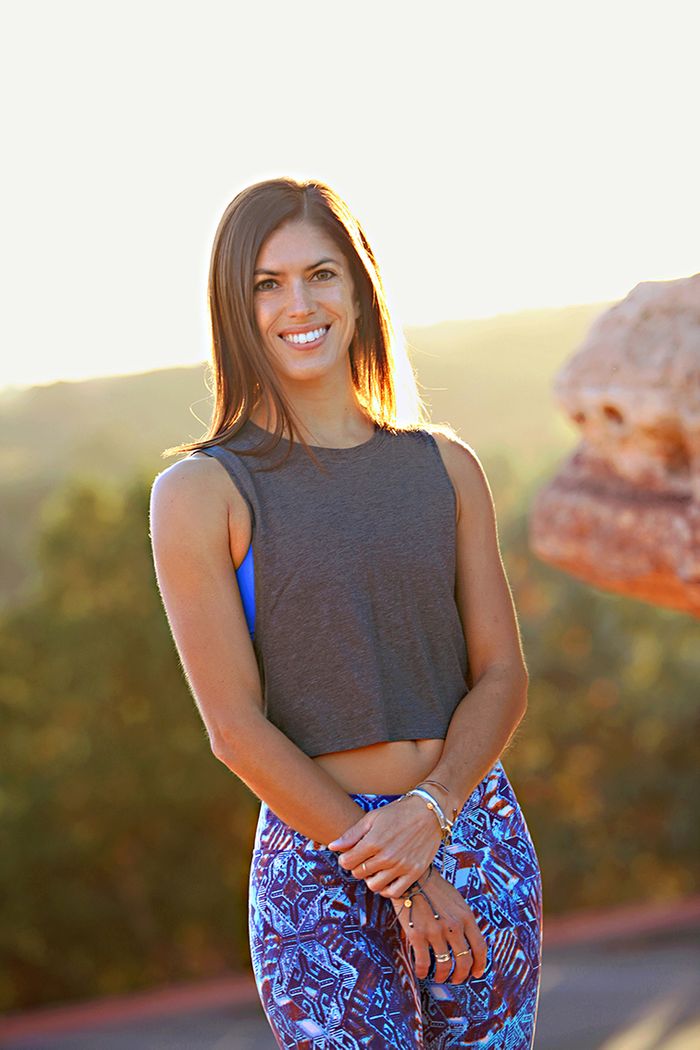 COS Teacher Director, E-RYT 500, Certified Hot Asana Assist, Hot Asana Yoga University Faculty, YACEP
After years of training in classical ballet and modern dance, Lisa first tried yoga in the hopes of finding a workout which balanced both strength and flexibility. She became hooked when she realized that she had also discovered a community which found beauty in so-called imperfections and encouraged compassion for others and oneself—plus yoga still kicked her butt on a regular basis.
Lisa completed her 200-hour certification with YogaWorks in New York in 2010 and her 500-hour certification with Grace Morales in North Carolina in 2014. She is registered with Yoga Alliance, with more than 1,000 teaching hours. Lisa's classes emphasize alignment, playfulness, and inclusiveness. With a deep understanding of the body, Lisa gives students the opportunity to make the most out of their practice through accessible sequencing and concise cues.
When not on the mat, Lisa enjoys cooking vegetarian food, sharing a bottle of wine with friends, snuggling with her two cats and three dogs.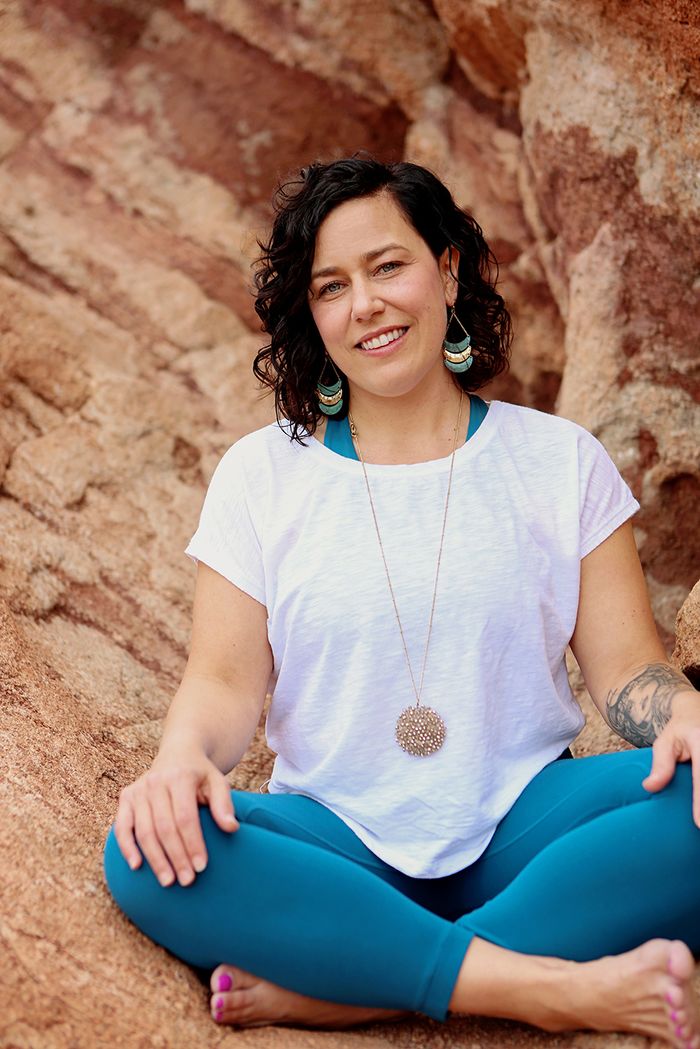 CYT 500, Certified Hot Asana Assist
Julie completed her first yoga training in 2012, but she feels she has been studying yoga her whole life. She has always found movement to be a nurturing, powerful force in her life. Always up for a new experience, she went to her first yoga class on a whim and fell in love with the expansive feeling that asana practice gave her. The encouraging and nurturing community that yoga creates has inspired her to grow and expand in ways she never imagined. It is this experience she hopes to share with her students. She aims to inspire students to deepen their practice and realize their potential through all yoga has to offer.
Julie trained with Siva Power Yoga in Wichita, KS where she earned her 200 hour certification and has continued her education through Corepower Yoga. She earned her Bachelor's Degree in Exercise Science at Wichita State University and Associates Degree in Physical Therapy from Kansas City Kansas Community College. She has been working in the field of health and fitness for 10 years with experience in personal and group training, yoga, athletic performance, and rehabilitation.