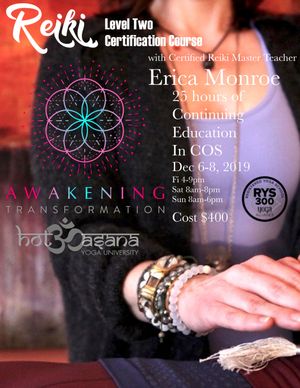 25 hour Reiki Level 2 Certification in COS
Dates: Dec 6-8, 2019
Hours: Fri 4-9pm, Sat 8am-8pm, Sun 8am-6pm
Location: Hot Asana COS
Teacher: Erica Monroe
Second Degree Reiki Certification with Certified Reiki Master Teacher Erica Monroe
25 hour Module
Dec 6-8, 2019
Fri 4-9pm
Sat 8am-8pm
Sun 8am-6pm
Reiki Level 2 is an advanced level of Reiki energy. Practitioner must have attained Reiki Level 1 before taking level 2.
25 hour Module includes
Reiki Level 2 Certification
Level 2 attunements
Chakra and Reiki Meditations
Reiki Symbols
New techniques for self and client
Reiki Speciality Class information and practice
Evolve and deepen your understanding of the teaching the science of yoga. This 25 hour yoga teacher training module has been carefully constructed to expand your knowledge, skill set and confidence as both a teacher and a student. The work that we do as yoga teachers is key in both the mental and physical wellness of our communities. Elevate your credentials to teach beyond the introductory information commonly delivered in a 200-hour teacher training. This is one of many modules set up by Hot Asana Yoga University to stand alone as continuing education or to allow you to build your 300-hour certification at your own pace. You have up to five years to complete all 270 contact hours for a 300-hour certification. $400 tuition
$250 deposit paid upon registration to secure your spot.
Deposit is non-transferable and non-refundable.
Tuition to be paid in full one week from the start of training.
For More Information: email trainings@hotasanastudio.com
Price
$400 Tuition
$250 deposit paid upon registration to secure your spot.
Deposit is non-transferable and non-refundable.
Tuition to be paid in full one week from the start of training.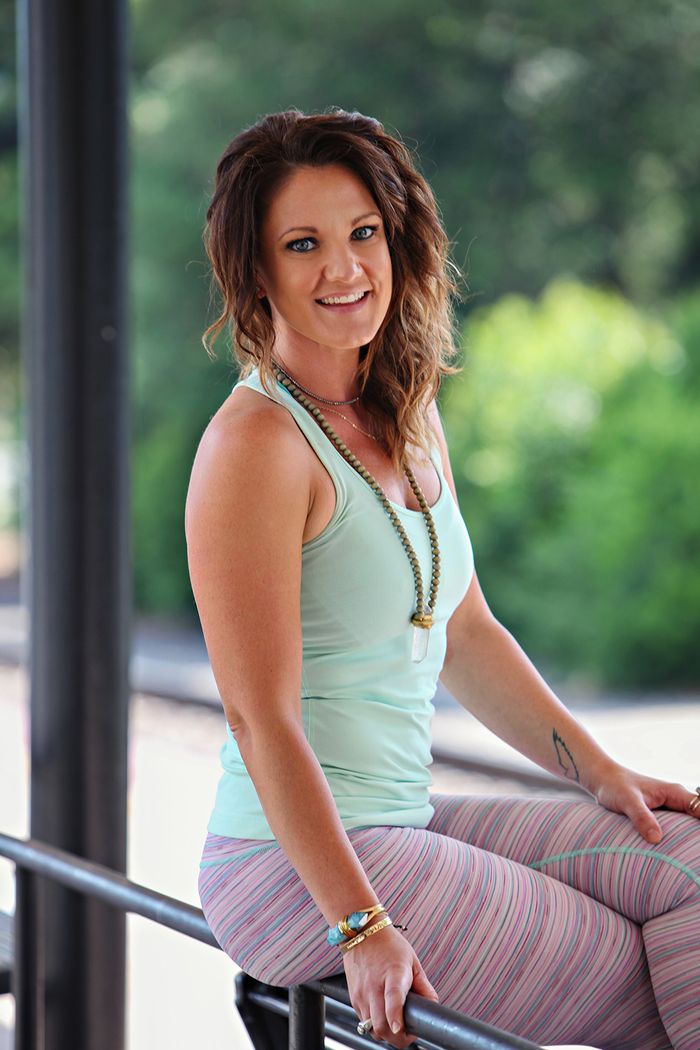 E-RYT 200, YACEP, Certified Yin Teacher, Certified Reiki Master Teacher, Hot Asana Yoga University Faculty
December 2008 I took my very first yoga class, I still remember where my mat was placed, what I was wearing, the feel of the room, and the Savasana, even though I had no clue then what Savasana was or what I was doing the other 80 minutes of class. I didn't take my first class for any major reason other than my friend Paula kept asking or telling me to give it a try. Paula would tell me that yoga would make me feel good, I was unaware that felt bad. So I finally went and took my first class with Virginia Gallagher. It was amazing, like I said I had no clue what was happening but I loved it. The Savasana, the part were we lay down for 10 minutes with a lavender cloth and receive a massage, that is when I knew I would be back. I don't like to admit to myself that I have Attention Deficit Disorder, most of my life I considered it a super power that my brain moved extra fast. My brain was always on, I was always on. Until, Savasana. The perfect combination of heat, music, and a vinyasa class ending with Savasana helped me find the first quiet moment that I have possibly ever felt. It was euphoric, yet peaceful and foreign. The foreign sensation didn't bother me to much as I begin to practice regularly 3 times a week. I was addicted, chasing the 10 minutes of freedom at the end of every class while getting stronger, more flexible and Hot Asana became my second home. 2014 I signed up to attend Hot Asana Yoga University's 200 hour teacher training, Which has been one of the best decisions of my life. During Teacher Training, Reiki was discussed and I was interested in knowing more. About six months later there was a flyer, a yellow flyer with information about an upcoming Reiki level 1 Certification. I was so excited and called Dana Preshous to sign up. She was beyond lovely and asked if I have ever had a session. Nope, I have not. Dana said I should have a session before class started, which I thought was a good idea myself. My first Reiki session only confirmed that I knew I wanted to learn more about Reiki and become a Reiki Practitioner. Once again, I found quiet, peace, and a relaxation that was unworthy of words. I became a Reiki 1 Practitioner, a year later Reiki 2, and level 3 the following year, all of which I took from Dana Preshous. Then, I was fortunate enough to apprentice under Dana for a year and a half to become a Certified Reiki Master Teacher. Yoga and Reiki were 2 things I didn't know much about but wanted to try. I will always be grateful to Paula for suggesting yoga, Virginia for training me and introducing the word Reiki, and Dana for seeing who I am. Because of them, and many others I am exactly where I am supposed to be. I am humbled to teach along side my teachers but I will always remain a student.