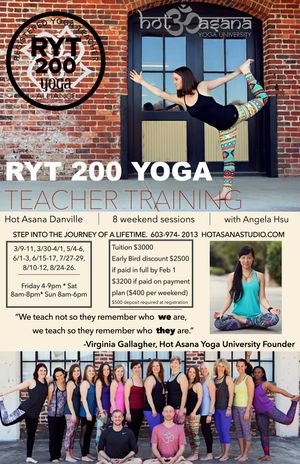 200 hr Yoga Teacher Training in Danville, VA
Dates: March 9-11, March 30-April1, May 4-6, June 1-3, June 15-17, July 27-29, August 10-12, August 24-26.
Location: Hot Asana Danville
Teachers: Angela Hsu
Join Angela Hsu on the adventure of a lifetime. Eight weekend sessions make up this weekend style training...
March 9-11, March 30-April1, May 4-6, June 1-3, June 15-17, July 27-29, August 10-12, August 24-26, 2018. This 200 hour yoga teacher training is designed to take your personal practice and understanding of yoga to a whole new level and provide you with the skillset to offer students an intelligent, dynamic and inspiring yoga class. This course is ideal for serious students and aspiring teachers. With thousands of hours of teaching experience, this teacher training program will provide an in-depth exploration into the practice, process and science of yoga. For more information please contact Virginia at vantim2@mac.com .
PRICING
Tuition $3000
Early Bird discount $2500 if paid in full by Feb 1
$3200 if paid on payment plan ($400 per weekend)
$500 deposit required at registration
SIGN UP TODAY!
Non refundable $500 deposit required to reserve your spot. Payments are non refundable and non transferable.