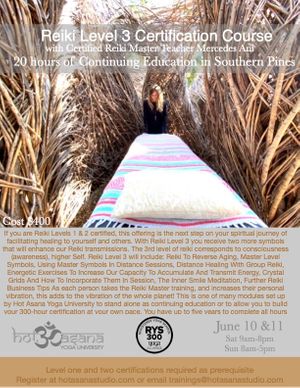 20 Hours | Reiki Master Level
June 10 & 11, 2023
Hours (all in Eastern):Saturday 9am-8pm, Sunday 8am-5pm
With Mercedes Ani
Hot Asana Yoga Studio (10 Camelia Way in downtown Southern Pines)
If you are Reiki Levels 1 & 2 certified, this offering is the next step on your spiritual journey of facilitating healing to yourself and others. With Reiki Level 3 you receive two more symbols that will enhance our Reiki transmissions. The 3rd level of reiki corresponds to consciousness (awareness), higher Self. Reiki Level 3 will include: Reiki To Reverse Aging, Master Level Symbols, Using Master Symbols In Distance Sessions, Distance Healing With Group Reiki, Energetic Exercises To Increase Our Capacity To Accumulate And Transmit Energy, Crystal Grids And How To Incorporate Them In Session, The Inner Smile Meditation, Further Reiki Business Tips. As each person takes the Reiki Master training, and increases their personal vibration, this adds to the vibration of the whole planet! Reiki Levels 1 & 2 certifications required as prerequisite.
This training will include: Reiki To Reverse Aging, Symbols, Distance Sessions with Level 3 Symbols, Techniques For Transmitting Energy From A Distance, Distance Healing With Group Reiki, Reiki Level 3 Energetic Exercises, Crystals In Reiki Level 3, The Inner Smile, Reiki Business Tip, Further Learning, How to Become a Reiki Master Teacher
Tuition: $400

$250 deposit paid upon registration to secure your spot.

Deposit and payments are non-transferable and non-refundable.

Tuition to be paid in full one week from the start of training.
Hours can be used towards a 300 hour certificate through Hot Asana Yoga University or towards continuing education requirements.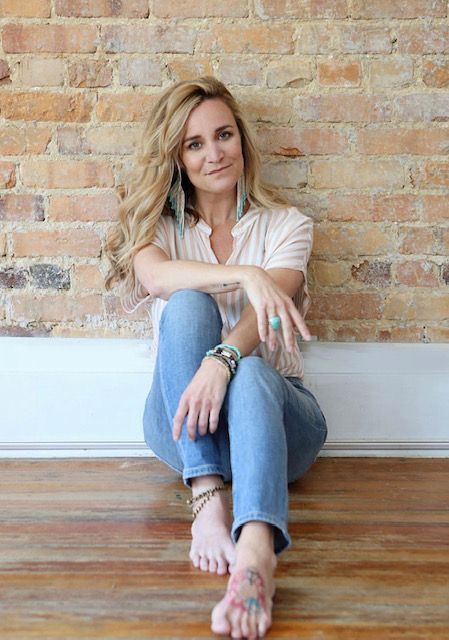 Mercedes Ani
Mercedes is a Advanced Reiki Master Teacher, an Experienced Yoga Teacher (500hr ERYT), Continuing Education Provider for Yoga Alliance (YACEP), a Certified AcroYoga Teacher, Meditation Teacher, Thai Massage and Bodywork Certified, PED Yoga Instructor, International Wellness Retreats & Yoga Teacher Training Facilitator, Certified Crystal and Chakra Healer and Owner of Healing Arts with Mercedes LLC
My passion is to help others heal through yoga, reiki, AcroYoga, Thai Yoga, meditation and educational wellness workshops and retreats. My own journey with yoga inspired me to deepen my practice and to then share my passion for this practice with others on their journey. As a teacher, I encourage students to turn inward during their practice to experience self inquiry, getting comfortable outside of their comfort zone, and to be an observer of their bodies and minds. My mission is to create a safe space for creative exploration. I aim to cater to the physical needs of the students while making sure to deliver a practice that intends to unify the mind, body, and soul in a safe and supportive environment. My intention is to inspire learning and growth in the practice and for students to leave feeling better than when they arrived.