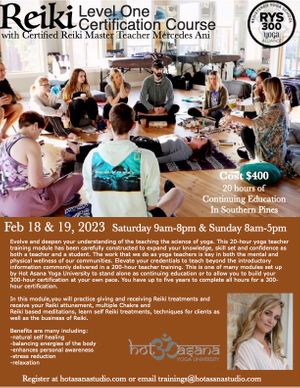 20 Hours | Reiki Level One
Everything is energy and it is an amazing tool to enhance wellbeing of self and others. Reiki is a Japanese technique of energy healing / work for stress reduction and relaxation.
Benefits are many including:
-natural self healing
-balancing energies of the body
-enhances personal awareness
-stress reduction
-relaxation
In this module, you will receive two Reiki Attunements, multiple Chakra and Reiki based meditations, learn self Reiki treatments, techniques for clients as well as the business of Reiki.
Hours can be used towards a 300 hour certificate through Hot Asana Yoga University or towards continuing education requirements.
Tuition
$400
$250 deposit paid upon registration to secure your spot.
Deposit is non-transferable and non-refundable.
Tuition to be paid in full one week from the start of training.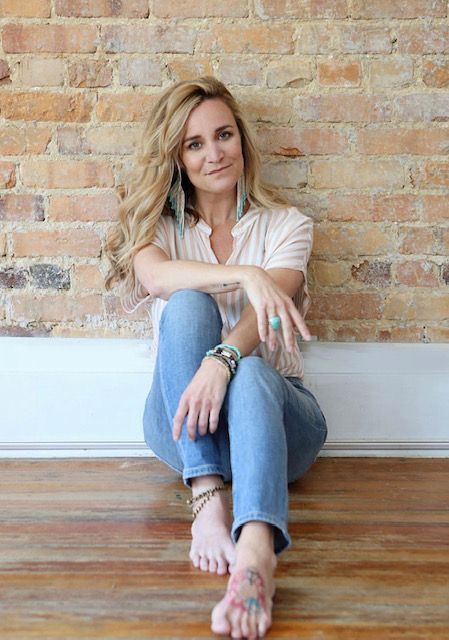 Mercedes Ani
Mercedes is a Advanced Reiki Master Teacher, an Experienced Yoga Teacher (500hr ERYT), Continuing Education Provider for Yoga Alliance (YACEP), a Certified AcroYoga Teacher, Meditation Teacher, Thai Massage and Bodywork Certified, PED Yoga Instructor, International Wellness Retreats & Yoga Teacher Training Facilitator, Certified Crystal and Chakra Healer and Owner of Healing Arts with Mercedes LLC
My passion is to help others heal through yoga, reiki, AcroYoga, Thai Yoga, meditation and educational wellness workshops and retreats. My own journey with yoga inspired me to deepen my practice and to then share my passion for this practice with others on their journey. As a teacher, I encourage students to turn inward during their practice to experience self inquiry, getting comfortable outside of their comfort zone, and to be an observer of their bodies and minds. My mission is to create a safe space for creative exploration. I aim to cater to the physical needs of the students while making sure to deliver a practice that intends to unify the mind, body, and soul in a safe and supportive environment. My intention is to inspire learning and growth in the practice and for students to leave feeling better than when they arrived.