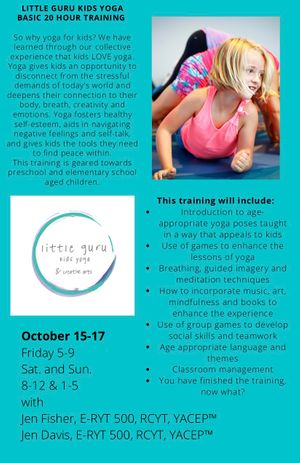 20 Hours | Kids Yoga Training
Dates: Oct 15-17, 2021
Hours: (all in Eastern) Friday 5-9pm, Saturday 8am-12pm & 1-5pm, Sunday 8am-12pm & 1-5pm
Location: Hot Asana Yoga Studio (10 Camelia Way in downtown Southern Pines)
Teacher: Jen Davis, E-RYT 500 and Jen Fisher, E-RYT 500, RCYT
Join Jen Davis, E-RYT 500 and Jen Fisher E-RYT 500, RCYT of Little Guru Kids Yoga, who have over 18 years combined experience in teaching kids yoga, for a training that will help you introduce the gifts of yoga to children. Yoga is for everyone, including the smallest yogis. However, how yoga is presented to children is very different than a typical adult class. During this weekend training, you will learn how to hook kids on yoga by meeting them where they are and making the gifts of yoga accessible to them at whatever age they may be. This playful way of teaching yoga to kids will not only introduce them to the practice, but also give them tools to deal with the stress that is a part of our children's lives in this day and age.
So why yoga for kids? We have learned through our collective experience that kids LOVE yoga. Yoga gives kids an opportunity to disconnect from the stressful demands of today's world and deepens their connection to their body, breath, creativity and emotions. Yoga fosters healthy self-esteem, aids in navigating negative feelings and self-talk, and gives kids the tools they need to find peace within.
This training is geared towards preschool and elementary school aged children.
This training will include:
Introduction to age-appropriate yoga poses taught in a way that appeals to kids
Use of games to enhance the lessons of yoga
Breathing, guided imagery and meditation techniques
How to incorporate music, art and books to enhance the experience
Use of partner poses to develop social skills and teamwork
Age appropriate language and themes
Classroom management
You've finished the training, now what?
This training is a stand alone module within our 300 hour program. RCYT is a separate 95 hour training and certification.
PRICE
$400 Tuition
$250 deposit paid upon registration to secure your spot.
Deposit is non-transferable and non-refundable.
Tuition to be paid in full one week from the start of training.
INSTRUCTORS
Jen Davis, E-RYT 500 and Jen Fisher, E-RYT 500, RCYT