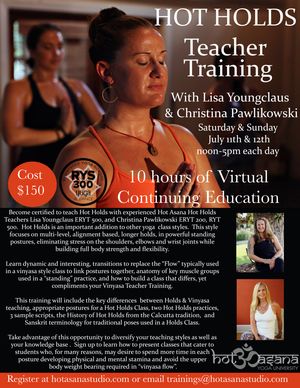 10 hour Hot Holds Teacher Training
Become certified to teach Hot Holds with experienced Hot Asana Hot Holds Teachers Lisa Youngclaus ERYT 500, and Christina Pawlikowski ERYT 200, RYT 500. Hot Holds is an important addition to other yoga class styles. This style focuses on multi-level, alignment based, longer holds, in powerful standing postures, eliminating stress on the shoulders, elbows and wrist joints while building full body strength and flexibility.
Learn dynamic and interesting, transitions to replace the "Flow" typically used in a vinyasa style class to link postures together, anatomy of key muscle groups used in a "standing" practice, and how to build a class that differs, yet compliments your Vinyasa Teacher Training.
This training will include the key differences between Holds & Vinyasa teaching, appropriate postures for a Hot Holds Class, two Hot Holds practices, 3 sample scripts, the History of Hot Holds from the Calcutta tradition, and Sanskrit terminology for traditional poses used in a Holds Class.
Take advantage of this opportunity to diversify your teaching styles as well as your knowledge base . Sign up to learn how to present classes that cater to students who, for many reasons, may desire to spend more time in each posture developing physical and mental stamina and avoid the upper body weight bearing required in "vinyasa flow".
PRICING
Tuition Cost $150
Payments are non-transferable and non-refundable.
Tuition to be paid in full one week from the start of training.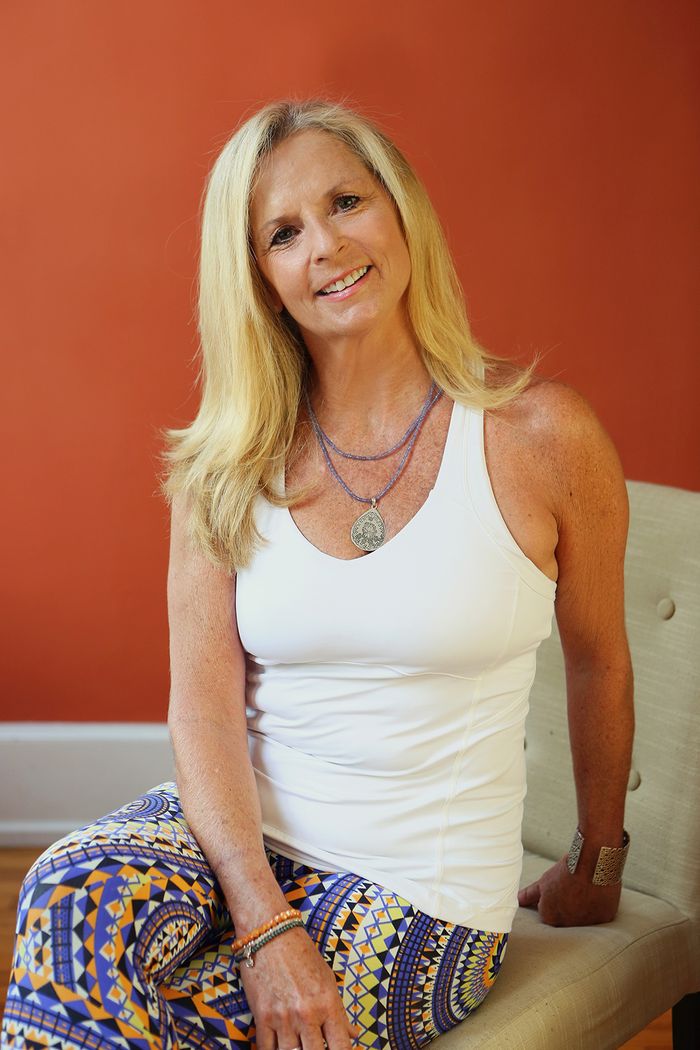 ERYT 500,
I've practiced hot yoga for 15 years and have taught At Hot Asana for 6 years. As an EYR-T 500 teaching vinyasa and Hot Holds, my
learning has continued with additional Hot Asana trainings including Yin Yoga certification.
Adding teacher training in 2020 is a continuation of my devotion to the practice... the profound gratitude I have for what Yoga has done for me and the joy of bringing the benefits of yoga to others.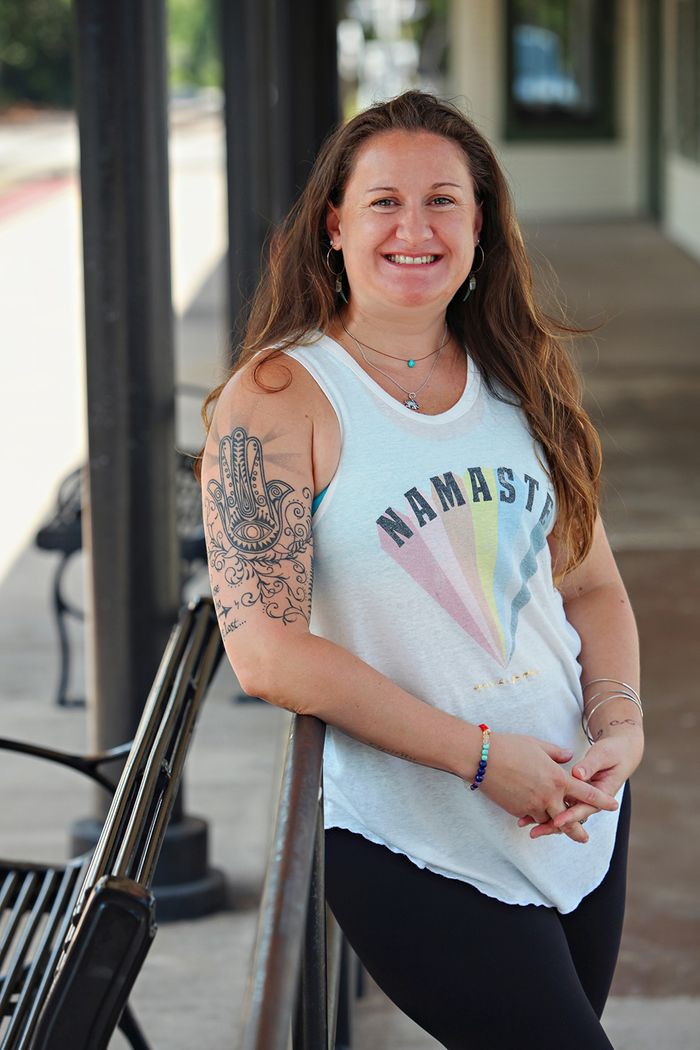 Studio Manager, E-RYT 200, RYT 500, YACEP, Yin and Restorative Yoga Certified, Reiki level II, Hot Asana Online Instructor
I first found yoga in a daily television program called Inhale with Steve Ross on the Oxygen channel back in the early 1990's. I enjoyed his easy, laid back and joyful approach to the practice of yoga. Many, many years later I found myself in my first group class right here at Hot Asana and I was hooked!
Yoga has helped me through more than a few stressful life situations and has become a way I hope to reach out and help others through their stressful life situations and gain a healthier approach to life.
I grew up in a little town outside of Scranton Pennsylvania. After high school I joined the Army and have had a wonderful career. 20 years and several duty stations later, my next life transition happened in August 2013 when I retired from the Army. I am excited and appreciative to include yoga practice in the next chapter of my life.
I received my Pilates mat level I and II training from Pilates Certification Center in Raleigh, NC in 2012 and my first 200 hour Power Yoga Teacher certification from Grace Morales in Charlotte, NC in October 2013. In addition, the planets aligned in July 2015 and I was able to attend another 200 hour Yoga Teacher Training with Virginia Gallagher and Lisa Tiffany in Maya Tulum Mexico! I cannot say enough good things about the resort and training to do it justice, come chat with me at the studio and I will tell you all about it.
My journey with Hot Asana Yoga University to completing my RYT 500 has been fantastic. I love training, getting together with a group of like-minded people to talk about yoga, chakras, meditations, alignment, postures and everything in between is how I like to spend my free time. I feel I can incorporate new themes, ideas and postures and be more creative with all the types of classes I teach because of all the amazing training I have received. My training journey doesn't end at RYT 500 (it will never end)! I'll be seeing you in the training modules, in the studios, and on the mat!
I look forward to practicing with you!