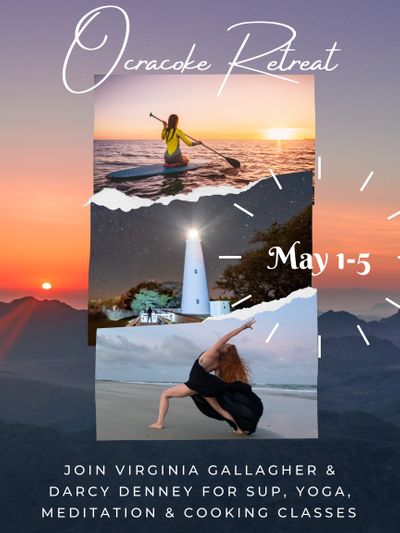 Ocracoke Island Mini Retreat with Va Gallagher & Darcy Denney
Join Virginia Gallagher & Darcy Denney for a 4 day Soul Cleansing Mental Reset on the dreamlike Island of Ocracoke , NC
May 1-5, 2022
With Virginia Gallagher & Darcy Denney
On Ocracoke Island, North Carolina
Daily Yoga & Meditation, 2 Cooking Lessons, Writing workshop, Stand up Paddleboarding, Witness Sunrises, Sunsets & Milky Way Gazing, Wild Ponies, and Miles of Natural beaches. Ocracoke was the favorite place of Rebel Legend, Blackbeard and still holds the energy of raw freedom and soulful authenticity.
Pricing includes accommodations and all listed activities:
SINGLE
Private King w/ Private Bath $1800 Per person
Private King w/ Shared Bath $1500 Per Person
Private Loft w/ Shared Bath $1200 Per Person
DOUBLE
Shared King Bed $999 per person
Shared Loft $800 per person
Twin $800 Per Person
TRIPLE
Twin $750 per person
Full $800 per person
QUAD
Shared King Bed in Room with 2 King Beds $800 per person
$500 deposit paid upon registration to secure your spot.
Deposit and payments are non-transferable and non-refundable.
Price to be paid in full one week from the start of Retreat.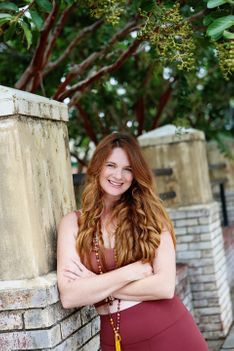 Studio Founder/Owner, E-RYT 500, RCYT, YACEP, Certified Yin Yoga Instructor, Hot Asana Yoga University Founder/Owner, Certified Mindfulness Meditation Teacher
We are all on our own personal journey. I would like to share a little bit about my yoga journey with you…
I attended my first Hot Yoga Class in this very studio on August 12, 2007 and fell in love with the mental and physical connection I felt. I began practicing 3 – 6 times a week, shed 40 pounds in 4 months, and was able to discontinue the use of all of my prescription medications. I began to feel healthier and stronger than ever. Convinced of the benefits of yoga, I continued my daily practice and began to deepen my dedication to and knowledge of yoga.
I began my teacher training in 2008 and since then have completed multiple 200 and 500 hour certifications, Yin Yoga training and Mindfulness Meditation Vipasana. My trainings have been diverse but my teaching style has been primarily influenced by Grace and MyLinda Morales, Jimmy Barkan, Rolf Gates, Chris & John Yax , Deepak Chopra, Bryan Kest and Paul Grilley. I fundamentally believe that anyone can change their body and their life. I believe we can in fact, grow younger and stronger. I would love to show you how Hot Asana can be a part of that change. It doesn't matter when or in what condition you start…JUST START. Your best YOU may very well be yet to come.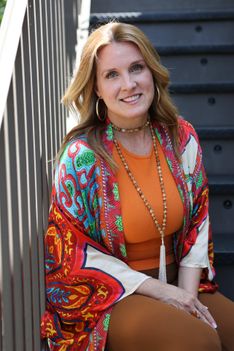 RYT 500, SUP Yoga Instructor, Certified Yin Yoga Instructor, Evolve ambassador, Hot Asana Yoga University Trainer, Hot Asana Online Instructor
Yoga to me is not just something I do, but rather a way of life. I stepped on my mat about 5 years ago merely for the physicality of it. I was on my way to being fit and was bored with the typical gym setting. Little did I know I was about to step into a journey much more than just physically, but on a journey inward to meet myself. After a few years of practicing the asanas and dipping my toe into the spiritual side of yoga I realized it was much more than just what goes down on the mat. It's a shift in focus on how reality is perceived, how you perceive others and most importantly yourself. Yoga brings you back into life, allows you to remember yourself, remember your purpose. It gives you the tools to find balance, to sit in the seat of awareness, to get away from the conflicts of your thoughts, the day to day shuffle and rushing through life, helping you to be in the present moment and to live life the way it was intended...now. In this socially stimulating world we've created its nice to have somewhere to go to unplug. Just roll out your mat, center, and let the beautiful experience unfold. It's here where you will find your truth.
I completed my certification for RYT 200 hour at the Yoga Alliance recognized Hot Asana Yoga University with the amazing Virginia Gallagher & beautiful Lisa Tiffany. I have also taken workshops with master teachers John & Chris Yax, Kathryn Budig & Taylor Harkness, and Lisa Tiffany & Cameron Harris.
My name is Darcy Denney and I am a yoga teacher...come with me on this journey to not only better your physical body but enlighten your spirit as well. Live, life, now.