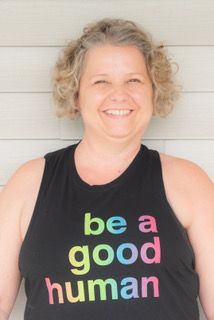 Peggy Nolan
500 CYT
"Come to yoga," she said. "It will be fun."
I took my first yoga class in 2002 when a friend invited me to a Kripalu style class. Little did I know how much I needed yoga in my life. I was eating stress for breakfast, lunch, and dinner.
Chronic stress wrecked havoc on my body and my overall well being. In early 2004 I was diagnosed with breast cancer. My new yoga practice became the one thing that kept me calm, focused, and helped me cope with multiple surgeries, chemotherapy, and radiation therapy.
After a year of treatment, I realized that I wanted to share and bring the peace of mind that my yoga practice brought me to as many people possible. In 2009 and 2010, I received my 200 and 500 hour teacher training through Yoga Matters in Sandown, NH.
In addition to teaching traditional Asana practice, I help others reach a deep state of relaxation through Yin yoga and yoga nidra meditation.
Over the years my own practice has evolved into a more mindful practice. Everything is modifiable. Be you, do you. Everything already is okay.