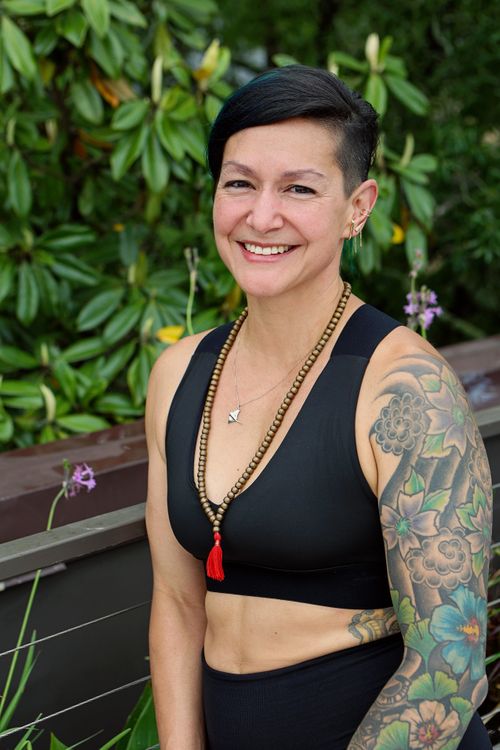 Jessica Armendariz
I love yoga - full stop! My name is Jessica but I prefer to be called AZ. I've lived in many places, but I now call NC home. I joined the Army at 17 and had an amazing career that spanned over 21 years before I retired, taking with me some awesome memories and a lot of wear and tear. While active duty, I enjoyed training hard and supplementing with CrossFit and BJJ, but between the heavy physical toll on my body over the years and the crazy incessant stress I began to break down. My body ached, my soul was tired! Thank goodness for my husband who dragged me, kicking, to my first yoga class. And I never looked back.
Yoga for me was exactly what my body needed and my mind craved. I loved that I could modify or intensify any pose or sequence to fit what I needed in the movement, despite my injuries (mental and physical). When I practice, for 60-90 minutes I feel at peace, present on my mat and in my body.
I found Hot Asana a couple of years ago through a wonderful yoga teacher; she also encouraged me to attend teacher training through Hot Asana Yoga University. I didn't think that I would ever teach but here I am - stoked to share yoga with anyone who needs to sweat, move, or find peace.
My favorite classes are Hot Vinyasas - the sweatier the better! I'm a wife, mother, dog and chicken mama and when I'm not in studio, you can find me elbow deep in my garden, in the kitchen baking, or just hanging out with my fur-child and family.
Yoga is for everyone, truly, no matter where you're at yoga meets you there to strengthen and soothe you. Hope to see you on your mats!