CLASSES
Introductory Special
12 classes over 30 days, free towel service, & 10% off boutique purchases
$59

General Admission Drop In
$18 PER CLASS

Military & Teacher Discount Rate
Active duty military personnel & spouses/ School teacher or fitness instructor
$15 PER CLASS

Student Rate
(under 23 years old) price includes mat & mat towel use
$12.50 PER CLASS - Available for purchase in studio only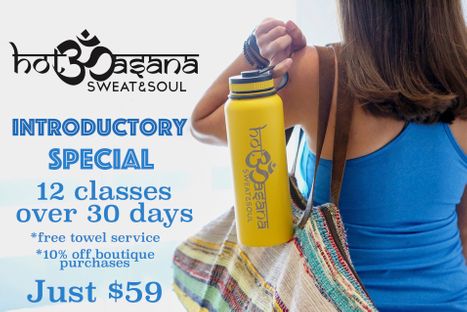 PACKAGES
10 classes for $125(no expiration date)
$125

20 classes for $220 (no expiration date)
$220
Youth/Student (under 23) 5 classes for $50 (no expiration date)
$50

ALL purchases are non refundable & non transferable.

Class Cancellation Policy: We hold a 3 hour window for class cancellations as not charged, and a 7 day window for workshops as not charged.

Payments on retreats and trainings are non refundable and non transferable.
MEMBERSHIPS
30/30 Memberships
(30 days with up to 30 classes, free towel service and 10% off boutique purchases)
$180

90/90 Membership
(90 days with up to 90 classes, free towel service and 10% off boutique purchases)
$450

365/365 Membership (Individual or Corporate)
(365 days with up to 365 classes, free towel service and 10% off boutique purchases)
$1,400

Couples 30/60 Membership
(includes 30 days and up to 60 classes shared by a couple, free towel service and 10% off boutique purchases) Couples membership is available to two people who reside at the same address and membership applies whether you practice individually or together.
$300