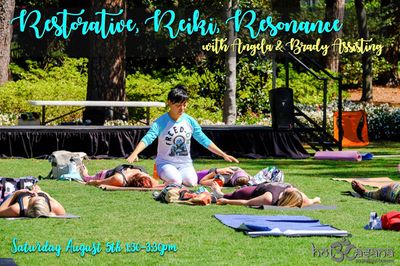 Restorative Reike Resonance
Restorative Reike Resonance

Date: Saturday Aug 5th
Location: Hot Asana Durham
Times: 1:30-3pm
Instructor: Angela Hsu with Brady Gallagher Assisting
Cost: $20
Join Angela and Brady for a rejuvenating reset of mind, body, and spirit. With the hustle and bustle and stresses of our fast-paced lives, it is easy to get "out of tune." These 2 hours will help you reconnect to yourself, "attune" your frequency, and raise your vibration. You will be guided into therapeutic postures, encouraging complete relaxation of the body. Angela and Brady will be performing Reiki, an energetic healing modality, throughout the class. And using the soothing sounds of a steel tongue drum, Angela, will guide you into a deep relaxation. This unique experience will leave you refreshed and feeling like new. There are only 35 spots, so save yours today!
*This restorative class is appropriate for all levels of yogis.*