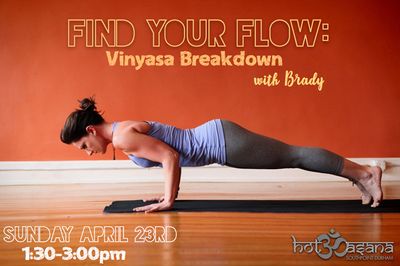 Find Your Flow Vinyasa Breakdown
Date: Sunday April 23rd
Location: Hot Asana Durham
Times: 1:30-3pm
Instructor: Brady Gallagher
Cost: Regular Class Price
Find your Flow will be 90 minutes of educational,workshop based breakdowns on how to properly execute your plank, chatturanga, updog and down dong; along with the basic alignment principles of common postures such as warrior 1,2 and lunges. Feel free to bring a notepad and of course a positive attitude! See you all there!