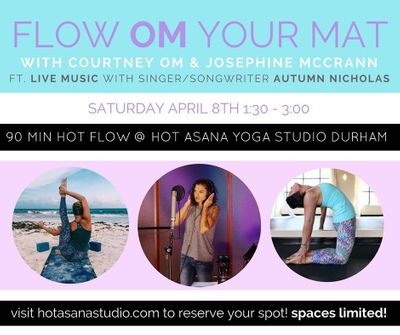 Fall OM Your Mat
Date: Saturday April 8th
Location: Hot Asana Durham
Times: 1:30-3pm
Instructor: Courtney Owen-Muir
Cost: Regular Class Price
Fall OM Your Mat with Courtney OM & Autumn Nicholas

Join Courtney OM and Autumn Nicholas for a 90 minute hot vinyasa class! This won't be your typical iTunes playlist YOGA experience... you'll have the chance to get up close and personal with international singer songwriter Autumn Nicholas as she will be performing LIVE during Courtney OM's class! This experience is like no other.. song along, groove along and get sweaty with us on your mat!