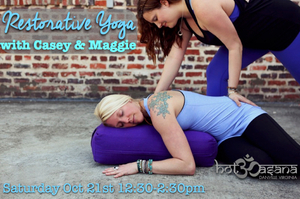 Restorative Yoga
Date: Saturday Oct 21st

Location: Hot Asana Danville

Times: 12:30-2:30pm

Instructors: Casey Malloy & Dr. Maggie Ashworth
Restorative Yoga focuses on relaxing the body and the mind while providing an opportunity to renew and heal. In this practice, you can leave the distractions and stresses of daily life and devote much needed time to restoring your own sense of well-being. Students are situated in simple, comfortable poses on the floor supported with blankets, straps or blocks. Students stay in poses for longer periods of time, allowing gravity to create releases and openings in the body. 120 minutes * Non Heated.