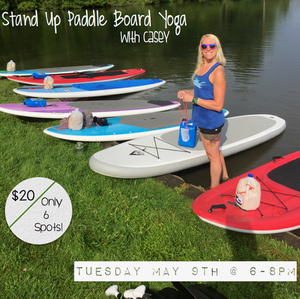 Paddle Board Yoga
Date: Tuesday May 9th

Location: Danville Parks and Rec

Times: 6-8pm

Instructors: Casey Malloy
Stand-Up Paddleboards meet Yoga! All experience levels welcome. Come out for an evening adventure with Hot Asana and Danville Parks and Recreation, at 6pm. We will take a scenic paddle upstream, challenge our balance with some poses and movement atop our boards, then float back down to our starting point. Class cost is 20 and there are only 8 spots available! You must register and pay through Danville Parks and Rec. Lets get out on the water and enjoy what Danville has to offer! Call 434-799-5150 to Register.